Announcement Coming Soon
Published on 20 July 2021 by William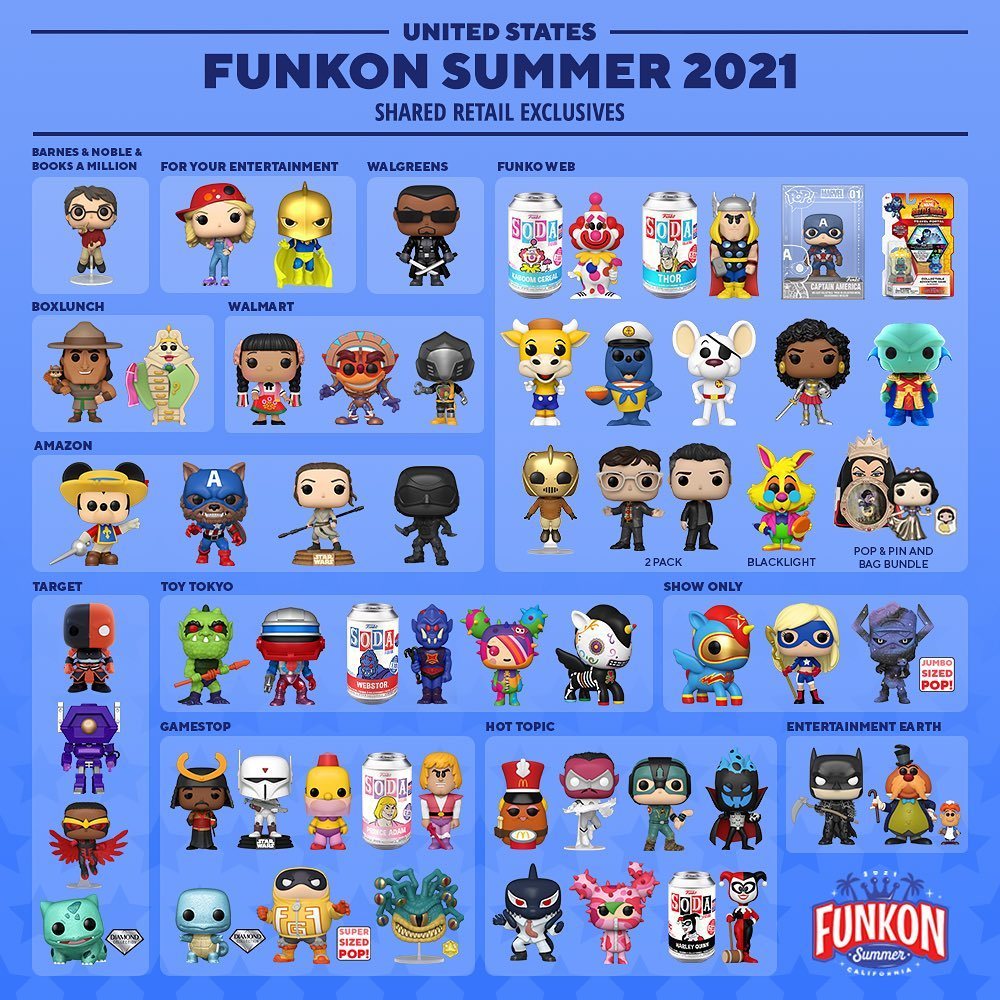 All the announcements of the Funkon Summer 2021
Funkon Summer 2021 is the convention that replaces the San Diego Comic Con, postponed to next year because of the Covid-19 epidemic. Nevertheless, Funko has decided to maintain an "online" event with many POP reveals, including some very nice surprises.
In total, no less than 45 POPs were unveiled by Funko during the Funkon 2021! Many collections have benefited from new POPs with the great classics such as the Marvel or DC POPs, the Disney POPs or of course Star Wars.
Back on all the announcements of the Funkon 2021, as well as the most beautiful surprises with a brand new type of POP where the figurines are in metal!
Discover below the summary of the Funkon 2021 announcements:
The POP of the White Rabbit in Alice in Wonderland in Black Light;
A POP of the Walrus and the Carpenter, also in Alice in Wonderland;
The POP! Animation of Demongo in Samurai Jack;
Funko continues the McDonald's set with a POP of a McNugget with his drum;
A Parks and Recreation POP of Leslie on rollerblades;
The POP of Kronk in Disney's Emperor's New Groove;
The Mooby's mascot in Jay and Silent Bob;
A POP from the very recent movie The Suicide Squad with T.D.K holding his own arm;
Two Star Wars POPs: one of Rey and one of an Imeprial Commando;
The Marvel Comics POP of Capwolf;
A POP of Kellog's Sugar Smack's Seal;
Two DC Imperial POPs featuring supervillains Deathstroke and Martian Manhunter;
Four new POPs of the Tokidoki: Sabochan, Scooter, Sandy and Caramelo;
The POP of Cobra B.A.T. in G.I Joe in Retro Toys;
Two Pokemon POPs in Diamond Glitter version: Bulbizarre and Carapuce;
The Xanathar POP with D20 from Dungeons & Dragons;
The great return of Crash Bandicoot in POP where the hero wears an armor;
A beautiful POP of Harry Potter on a broom catching the magic key;
A surge of DC superheroes: Batman with a scythe, Doctor Fate, StarGirl, Nubia (Wonder Woman) or even White Lantern Sinestro;
The POP of Homer Simpson in the middle of a belly dance;
A POP of Mickey from The Three Musketeers
The POPs of both directors Anthony and Joe Russo;
A new POP from the It's a Small World attraction with the doll representing Mexico;
The POP! Animation from Danger Mouse;
A new POP Retro Toys from Transformers with Shockwave;
The sublime Disney POP of the Wardrobe in Beauty and the Beast;
Three Marvel POPs: Galactus in Milky Way + Supersized version, a POP of Blade and a POP of Falcon;
The POP of Black Noir in The Boys;
The POP of Stanley from The Office dressed as a Samurai;
The POP of Rocketeer (Disney);
Two POPs from My Hero Academia: Gang Orca and FatGum (Supersized);
The metal POP of Captain America, which inaugurates the POP Diecast!
Franchises related to this news 💖
POP related to this news 🧙‍♂️