POP action figure of Dennis Starring as the Dayman
#1050
Dennis Reynolds from the It's Always Sunny in Philadelphia series, like all the members of Paddy's Pub, is what you might call a relatively disturbing character. They all are for different reasons, but he is perhaps the closest thing to a serial killer. Icy, lying, egocentric, Machiavellian, Dennis has distilled over the seasons a number of clues suggesting that he is a typical psychopath. The fact that he has admitted to not being able to feel is a particularly alarming one.
And it's all of these traits that give so much body to the character and his usual antics. The characters of It's Always Sunny in Philadelphia, in fact, know how to illustrate themselves by their flaws and those of Dennis are particularly tasty in this respect.
Precisely because Dennis is an egocentric maniac, he would have inevitably wanted to get the first part of Charlie's play when Charlie told them about his project. A role that he got very easily, the competition being anyway not up to it.
The role of Dayman does not date from the episode of Nightman Cometh but goes back to season 3 with the episode Dee is dating a retarded person. During this episode, Charlie and Dennis end up starting a band together. The song that they will write together, while Charlie will be drugged by sniffing paint, will be called "Dayman", which has become an emblematic song of the series. It is around this song that will be built later the musical written by Charlie and abominably misinterpreted by his friends of Paddy's Pub.
The role of the Dayman, played by Dennis, is actually a fantasy role that Charlie has assigned himself. Indeed, the comedy Nightman Cometh is inspired by the childhood of its creator. A story that, if it makes you laugh, is actually very dark if you look twice. Which, then, only makes it even more hilarious if you are a fan of dark humor. A humor in which the series It's Always Sunny in Philadelphia is kneaded.
The Funko POP figurine of Dennis playing Dayman obviously represents him in a grotesque costume, because it could not have been otherwise. Convinced that whatever he wears will fit, Dennis is not afraid of the ridiculous in the sense that he never finds himself ridiculous. The Dennis POP figure playing Dayman is a perfect representation of his aura on stage.
We can then see the figurine of Dennis interpreting Dayman wearing a gray velcro suit extremely dated and very bad. It is his stage costume that he already wore during the first interpretation of Dayman in public. Wearing his usual makeup, we can see that the cheeks of the Funko POP Dennis interpreting Dayman have been reddened in that sense. In his hand, the Funko POP figure of Dennis interpreting Dayman holds up a human heart that the character rips out of the Nightman's chest following their - very badly - choreographed fight. A synthetic human heart of course. However, this kind of information needs to be clarified when it comes to Dennis, because with him, you never know what he might be capable of.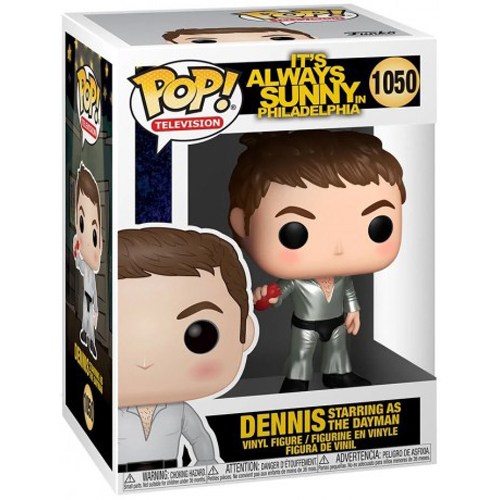 Funko POP Dennis Starring as the Dayman figure in its box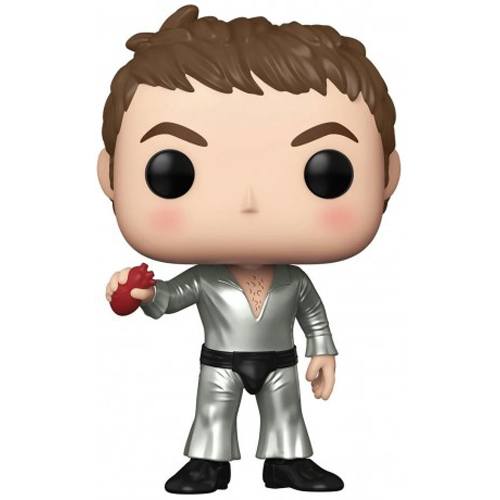 Funko POP Dennis Starring as the Dayman figure unboxed
Dennis Starring as the Dayman POP reviews 💖
| | | |
| --- | --- | --- |
| 5⭐ | | 0 rater |
| 4⭐ | | 0 rater |
| 3⭐ | | 0 rater |
| 2⭐ | | 0 rater |
| 1⭐ | | 0 rater |
What price for Dennis Starring as the Dayman POP figure ?
The action figure of Dennis Starring as the Dayman, from the It's Always Sunny in Philadelphia franchise is a POP which came out in September 2020.
According to its features, its selling price is estimated at:
17.00$
About this action figure ✔
🗯 News, deals, tips, coming soon,... Don't miss anything and join the community of Funko POP! fans