Announcement Coming Soon
Published on 13 January 2022 by William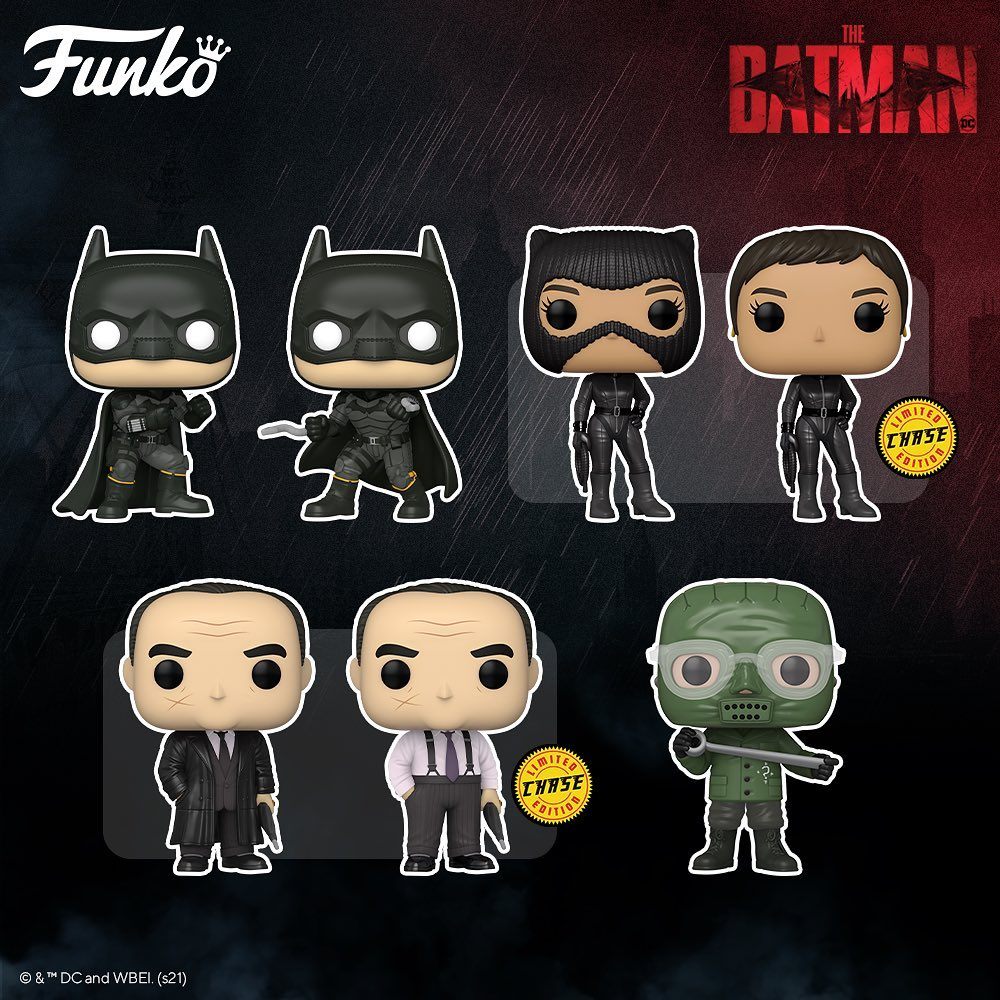 The very first Funko POP of The Batman (2022 movie)
The highly anticipated movie The Batman, starring Robert Pattinson as the knight of Gotham, has its first POPs. This is the very first announcement of Funko for this new year, and we can say that the brand has not done things by halves by unveiling no less than 15 figures including exceptional POPs: Rides, a multipack, a Supersized, etc.. This is a great way to prepare the release of The Batman planned for the beginning of 2022. Here is a look at all the new The Batman POPs unveiled by Funko.
Batman is back in action in a new movie whose synopsis is still centered around crime in Gotham. It's been two years since the vigilante cleaned up the city's darkest streets and became the face of justice in Gotham. Now he's on the trail of a new sadistic killer... If Batman can count on his allies (commissioner Gordon or his faithful butler Alfred), he will have to be wary of new encounters and sometimes bet on other people.
For this wave of POPs from the 2022 movie The Batman, we find Funko POP figures featuring the main characters. There is of course Batman, in the guise of actor Robert Pattinson, who has 8 new POPs including a Rides POP where the superhero drives the Batmobile. Among the other Batman POPs, there are some nice figurines with a POP of Batman whose costume has been damaged, a POP where he extends his cape to float in the air or a Supersized where Batman is clenching his fists, ready to fight with his bare hands. There are also two Bruce Wayne figures (one where he wears the Batman costume without the mask and one where he is in civilian clothes).
As for the other characters, there are three POP figures of Catwoman aka Serena Kyle. For this movie, the character is interpreted by the actress Zoë Kravitz and Funko offers three beautiful figures: the POP of Catwoman in her black leather outfit, a Chase version of this POP without the mask that lets us discover the face of the young woman and finally a POP Rides where Catwoman rides a motorcycle. There are also two POPs of Oswald Cobblepot alias Penguin, played by Colin Farrell, including a Chase where the character is presented without his long black raincoat; and finally a POP of Riddler in his green suit on which appears his symbol in question mark ...
Now we just have to cross our fingers to see more characters from the film in POP. I'm thinking of Alfred (Andy Serkis) or Commissioner Gordon (Jeffrey Wright)!
Franchises related to this news 💖
POP related to this news 🧙‍♂️