Announcement Coming Soon
Published on 02 June 2022 by Denis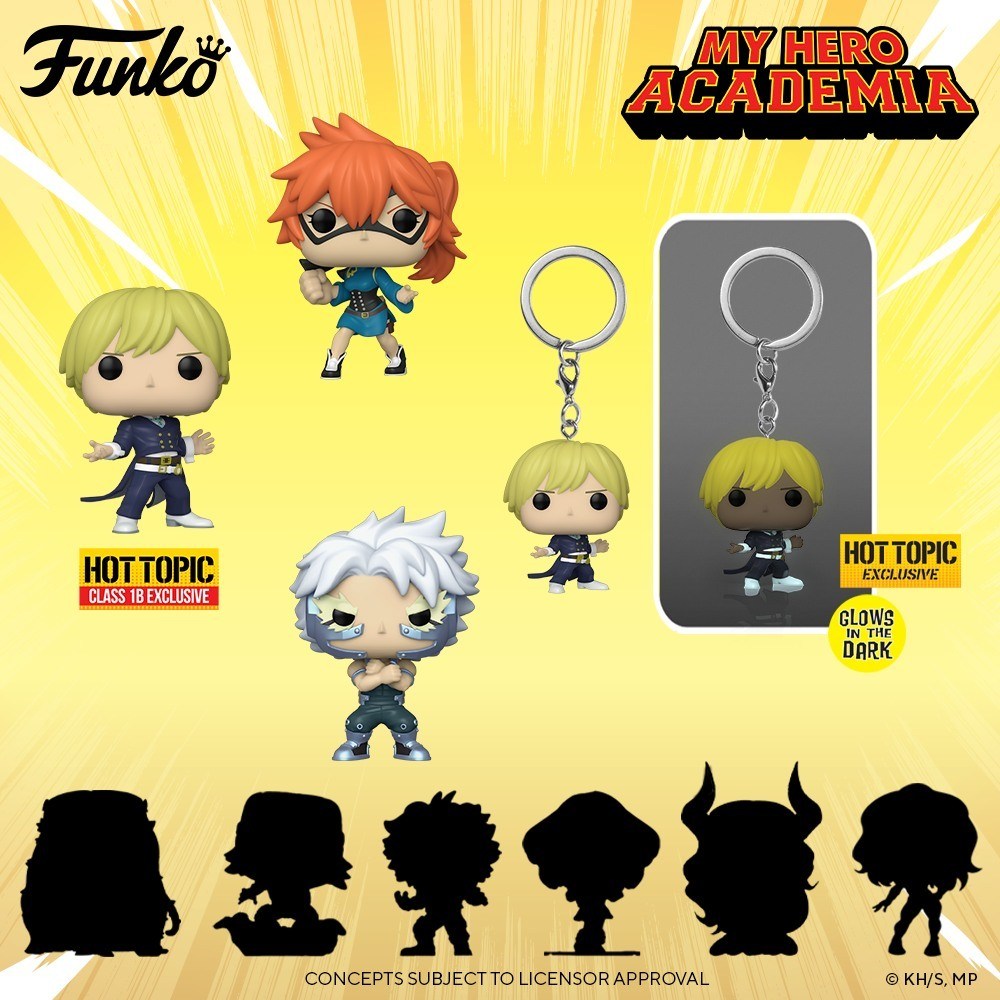 3 new MHA characters in POP
My Hero Academia fans can rejoice as Funko has just unveiled three new POPs featuring the characters bringing the My Hero Academia Funko POP collection to a total of 87 figures now! But who are the three new characters on these POPs? The continuation in this article with a clue all the same: they are 3 characters who appear for the first time in POP!
First of all, there is a POP of Neito Monomo, codename "Phantom Thief", student in class 1-B who is particularly famous for his arrogant and egotistical side... It has to be said that Neitio comes from a rich family and feels superior to all the other students and his hero's costume reflects this, as we can see on the POP: a black tuxedo, with golden buttons. Funko has also represented him in a pose that leaves no doubt about the narcissistic character of the character.
The second MHA POP figure unveiled is that of the young Itsuka Kendo, also a student of class 1-B. She is one of the strongest students thanks to her Quirk "Giant Fist" and by the way Funko did not omit to represent her with a huge fist on this Kendo POP! We don't know if the one who is nicknamed "the big sister of class 1-B" is about to hit someone or destroy a building with her fist, but in any case her piercing look says a lot about her motivation... Although they are in the same class, Itsuka is the opposite of Neito: friendly, with the desire to make the group progress and the ability to gather her classmates.
Finally, the last POP unveiled by Funko is that of Tetsutetsu Tetsutetsu. Also a 1-B student, Tetsutetsu may seem rather cold and violent at first, but he turns out to be a studious and ambitious student. On this POP of Tetsutetsu, Funko naturally made a nod to the character's Quirk with his transformation into a steel body making him one of the most resistant.
As you can see, Funko has taken a serious look at the 1-B class with these three new POPs from My Hero Academia. The opportunity for the fans to recreate the class with characters as atypical as Neito Monomo, Itsuka Kendo and Tetsutetsu Tetsutetsu. Moreover, Funko's teasing suggests that more 1-B students are coming soon...
Franchises related to this news 💖
🗯 News, deals, tips, coming soon,... Don't miss anything and join the community of Funko POP! fans