Announcement Coming Soon
Published on 03 June 2023 by Denis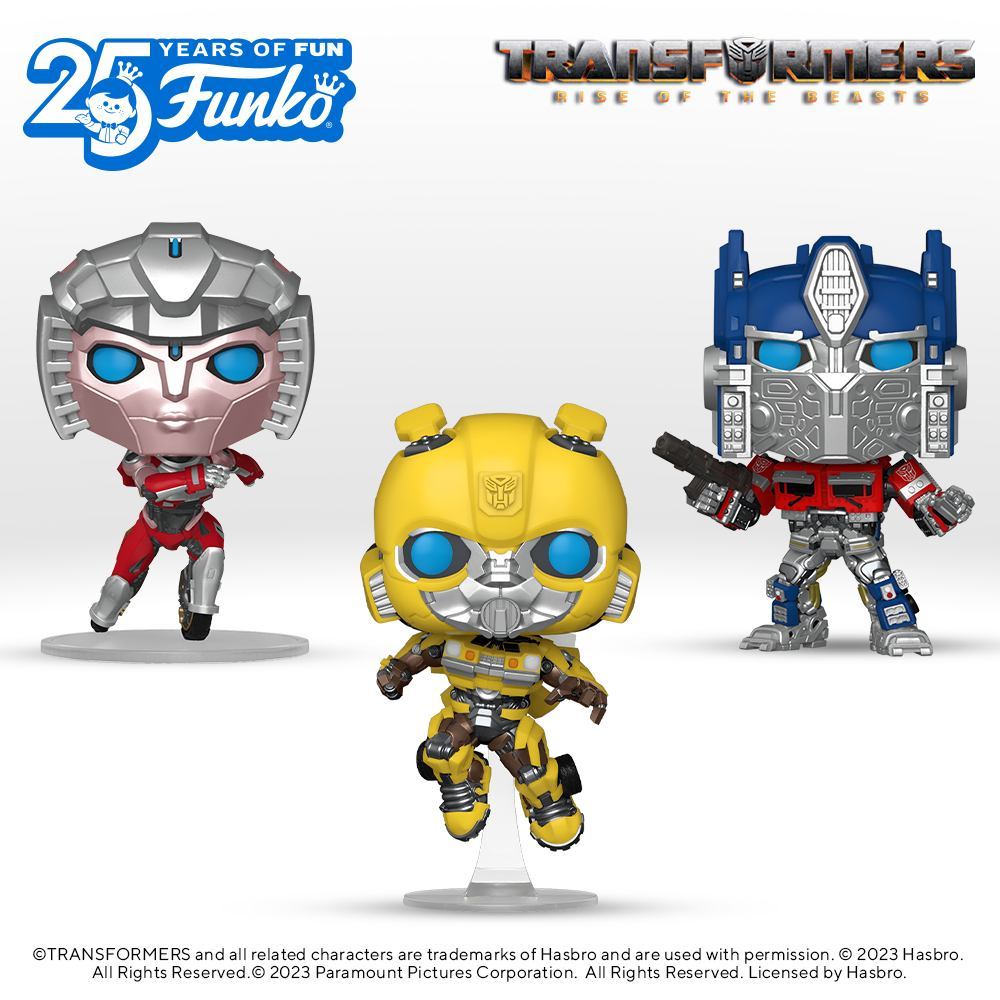 Transformers 7 Rise of the Beasts first Funko POP
The 7th opus in the Transformers saga has just been released, and Funko has already unveiled a set dedicated to the giant robots in this new film. The Autobots are the protectors, and the Decepticons are out to conquer the planet, but there's another threat lurking in the wings, with even more imposing creatures...
The film's plot explores the confrontation between the Autobots and Decepticons, but also introduces a new threat in the form of the Maximals and Predacons, two Transformers factions straight from the "Beast Wars" animated series. The Maximals are Autobots who transform into animals, while the Predacons are Decepticons from the "Beast Wars" era. The conflict between Autobots, Decepticons, Maximals and Predacons promises epic battles, spectacular transformations and memorable battles!
In addition to the giant robots, "Rise of the Beasts" also explores deeper themes, such as coexistence between different species and the struggle to preserve the planet. Human characters also play a crucial role in this story, collaborating with the Transformers to defend humanity against the forces of evil.
With stunning special effects, dynamic direction and a compelling storyline, "Transformers: Rise of the Beasts" promises to deliver an immersive and thrilling cinematic experience for fans of the franchise. Whether you're a long-time Transformers fan or discovering this universe for the first time, this film will immerse you in a breathtaking world of action, robotics and adventure.
And it's in a nod to all those strange robots that Funko has dedicated a rather complete first wave of POPs with no fewer than seven new figures. Among them are 4 Autobots:
Optimus Prime, the iconic noble leader and protector of humanity ;
Bumblebee, Optimus Prime's loyal scout;
Mirage, the Autobot inflitter capable of rendering itself invisible;
Arcee, the martial arts fighter.
As for the "bad guys", Funko has focused on :
Optimus Primal, like Optimus Prime, the leader of the Maximals who transforms into a gorilla as seen on the POP;
Rhinox, another powerful Maximal who transforms into a rhinoceros;
And finally, Scourge, a brutal and ruthless Decepticon.
As with the Transformers POPs (whether Retro Toys "toy" versions or characters from the films), the POPs emphasize the robot and anthropomorphic side of the characters with numerous details on the figurines. It's a safe bet that this is only the first wave, and that other Transformers POPs will soon be available.
Franchises related to this news 💖
POP related to this news 🧙‍♂️
🗯 News, deals, tips, coming soon,... Don't miss anything and join the community of Funko POP! fans