Announcement Coming Soon
Published on 06 June 2023 by Denis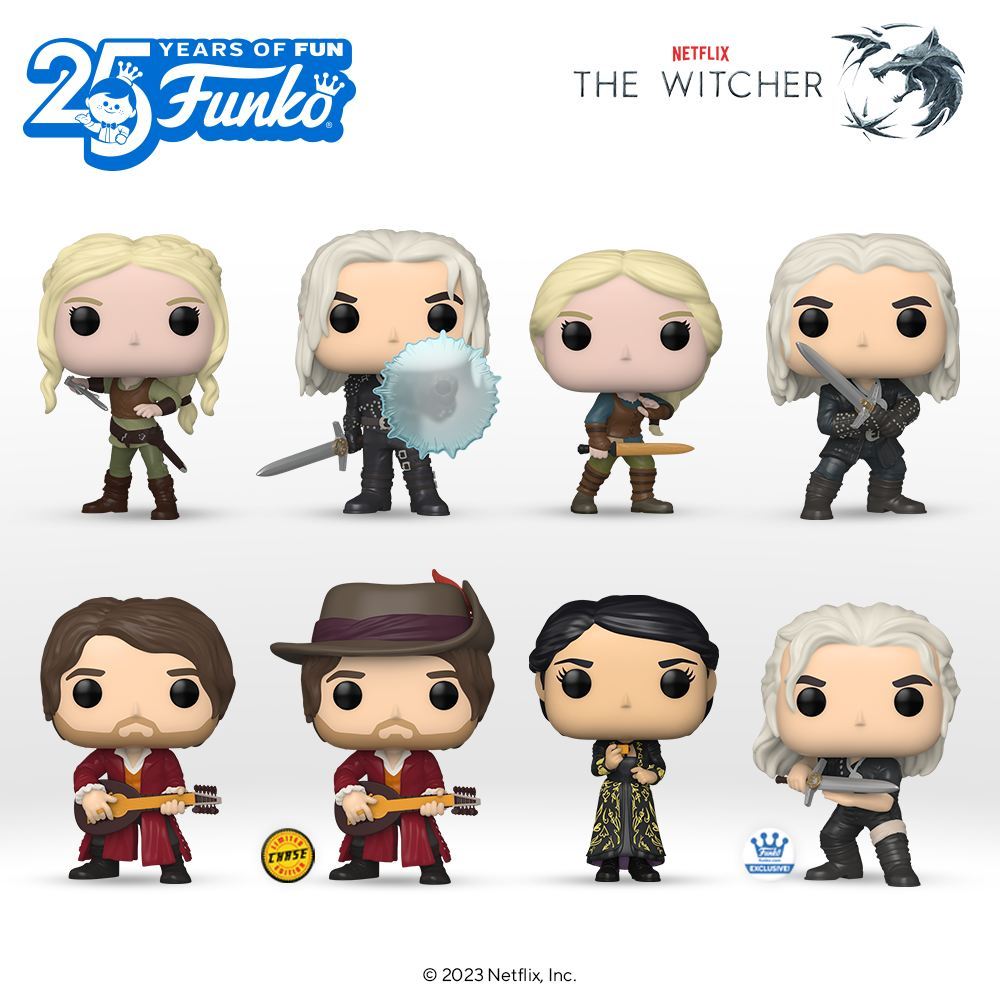 The Witcher Season 3 POP figurines are here
One of Netflix's biggest hits, the long-awaited Season 3 kicks off at the end of the month! A season that will also mark the end of a cast, as it will be the last for Henry Cavill in the role of Geralt... Divided into two parts, Funko is breaking fans' impatience by unveiling the very first figurines, certainly taken from the first episodes of the third season.
While a total of 10 new POP figurines have been added to the The Witcher POP collection, there are in fact only 5 different characters, and they all feature the series' main characters:
Geralt of Rivia, nicknamed the Witcher, a lone monster hunter with superhuman combat skills.
Yennefer of Vengerberg: the powerful witch is a complex and mysterious character. She is known for her beauty and magical skills.
Ciri: a princess of royal blood and heiress to the kingdom of Cintra. She is destined for an extraordinary destiny and has a mysterious bond with Geralt.
Jaskier (Dandelion): Geralt's mischievous bard and close friend.
And finally Vesemir: Geralt's mentor, who is also an experienced sorcerer.
From these five characters are drawn various POPs very faithful to the characters. We find Geralt with his sword, training for battle, Yennefer as beautiful as she is mysterious, Ciri presented in various battle postures or Jaskier with his mandolin, ready to sing a tune or tell a wonderful story...
There are also a number of special figurines, including the Geralt and Vesemir duo-pack, a GITD version of Geralt and a POP Chase of Jaskier.
With these 10 new POP figures, the Funko POP The Witcher collection doubles in size to the delight of fans, with 20 POPs in all. For the time being, Funko is concentrating on the 5 main characters, developing them over the course of each episode, but perhaps we'll have the chance to see other characters too in the near future.
Franchises related to this news 💖
POP related to this news 🧙‍♂️
🗯 News, deals, tips, coming soon,... Don't miss anything and join the community of Funko POP! fans