Announcement Coming Soon
Published on 06 May 2022 by Lola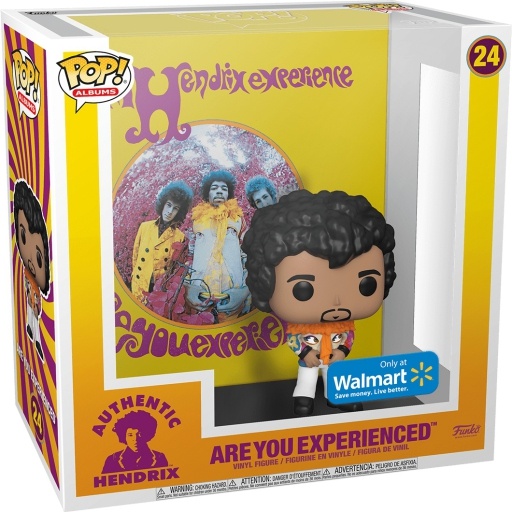 Jimi Hendrix's Are You Experienced album comes in Funko POP
Funko has been delighting music fans since the release of POP Albums, these POP figures that reproduce the covers of the greatest records with maximum fidelity. Among the albums already popified, we find for example AC/DC's Highway to Hell, Linkin Park's Hybrid Theory album or more recently Britney Spears' Oops! I Did It Again! by Britney Spears. In short, only the best in their genre!
So it's almost normal that Funko is now looking at the great Jimi Hendrix by offering to popify one of his albums...
The very first album of The Jimi Hendrix Experience
For the occasion, it is the very first album of Jimi Hendrix released in 1967 that was chosen by Funko: Are You Experienced. Between 1967 and 1969, the band will release three albums and many successes among Purple Haze, Burning of the Midnight Lamp or All Along the Watchtower.
Are You Experienced is the first big success that will make known the young guitarist landing in London. It is thus naturally on this album that Funko leaned.
We find on this POP the cover of the American version of the album made by the designer Karl Ferris who wanted to transcribe the psychedelic side of the group. The sleeve of a bright yellow displays two mentions: the name of the group and the title of the album in a typography just as exuberant. In the center, the photo of the trio, taken in counter-view because the photographer wanted to highlight the hands of the guitarist.
On the side of the Jimi Hendrix POP, we find the young man with an afro haircut and a jacket with two big eyes. For the anecdote, the jacket was offered to him by a fan !
Funko pays a nice tribute to Hendrix with this POP Albums
If Funko already offered 8 POP figures of the "solo" guitarist, it is on a completely different part of his career, and his beginnings, that Funko has focused. The result is just magnificent and will please all fans of the artist.
This brings to 9 POP figures, the Jimi Hendrix POP figures. This POP Albums will probably become the centerpiece for fans who will proudly display it in the middle of their collection.
Franchises related to this news 💖