Announcement Coming Soon
Published on 28 August 2022 by Lola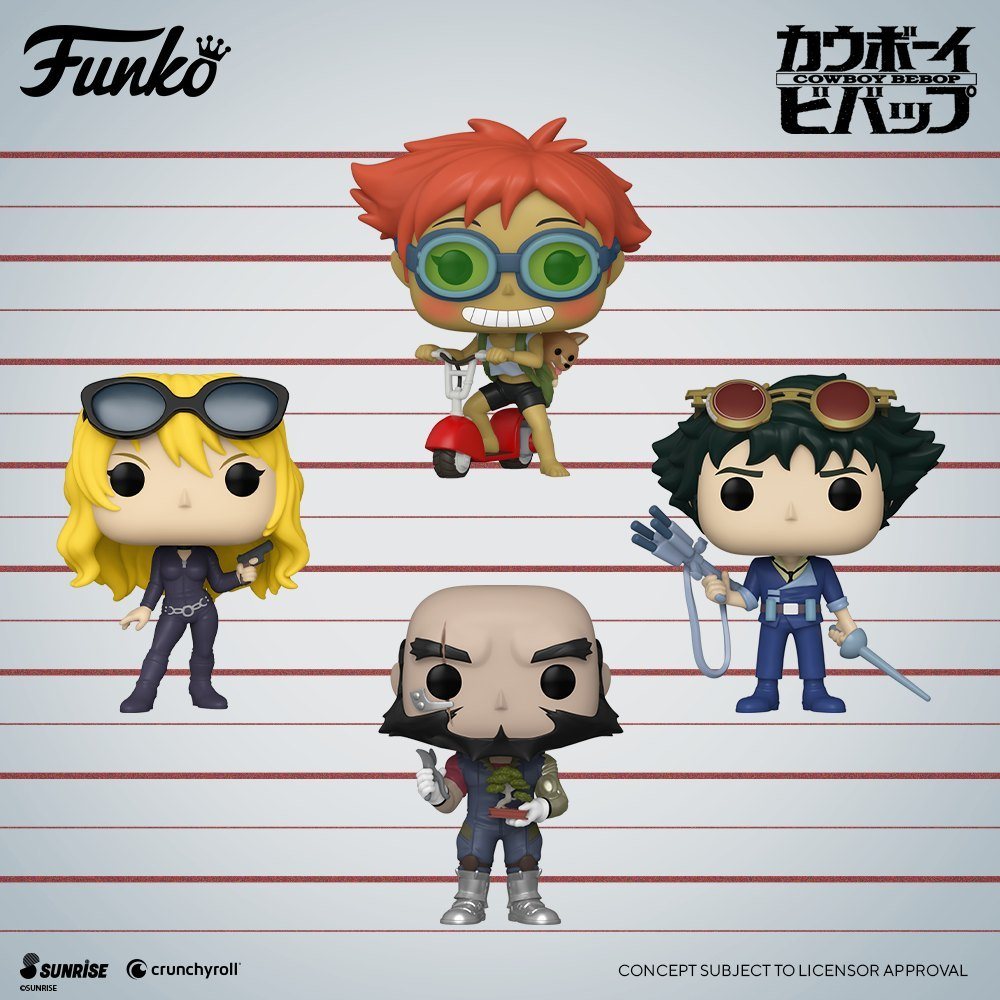 Funko unveils new Cowboy Bebop POPs
The Cowboy Bebop anime is still successful more than 20 years after its release. And so it is with pleasure that we discover the new Cowboy Bebop POPs unveiled by Funko. In total, there are no less than 7 new figures from the animated series that you can add to your collection.
Cowboy Bebop follows the adventures of a group of bounty hunters in pursuit of criminals in space. Aboard their spaceship, the Bebop, the "Cowboys" travel the solar system to stop criminals and collect the coveted bounty.
These are not the first Funko POP Cowboy Bebop since Funko already offered 8 figures from this collection. If most of them were from 2016 and 2018, fans had to be satisfied with two new POPs a little more recent (the one of Ein in Flocked version) and an "Anime Moment" named Battle of the Fallen Angels. But this time Funko is offering us a new wind of change by almost doubling the number of Cowboy Bebop POP figures! Indeed, this announcement brings the set to 15 POP figures in total, offering a new character.
In details, this announcement presents 7 figures (of 5 different characters), we find :
Spike Spiegel #1212, the bounty hunter adept in martial arts represented in his blue suit, with his glasses on his head and his sword in hand
Jet Black #1213, Spike's faithful teammate and former police officer, who is naturally found with scars on his face and his cybernetic left arm
Faye Valentine #1214, the greedy young woman who has amnesia since her cryonics and who lives from day to day, trying to pay off her numerous debts...
Ed on his scooter and accompanied by Ein #1215, the young 13 year old hacker is represented on this beautiful POP (worthy of a POP Rides) with the dog Ein also member of the Bebop crew
Julia #1216, the woman Spike is in love with and who is at the origin of his departure from the Red Dragons, easily recognizable by her long blonde hair. Note that this is the first POP representing this character in the series!
Spike Spiegel with noodles #1217, the main character is represented in this Target exclusive POP with a noodle opt, reminding the episodes where he devours them
The multipack with the 4 new POP of Spike, Jet Black, Faye Valentine and Ed on his scooter.
These new POP figures are sure to delight fans of the series. Perfectly faithful to the characters, it's even the perfect opportunity to start a Cowboy Bebop POP set if you haven't done so yet!
Franchises related to this news 💖
POP related to this news 🧙‍♂️
🗯 News, deals, tips, coming soon,... Don't miss anything and join the community of Funko POP! fans