Announcement Coming Soon
Published on 08 November 2021 by William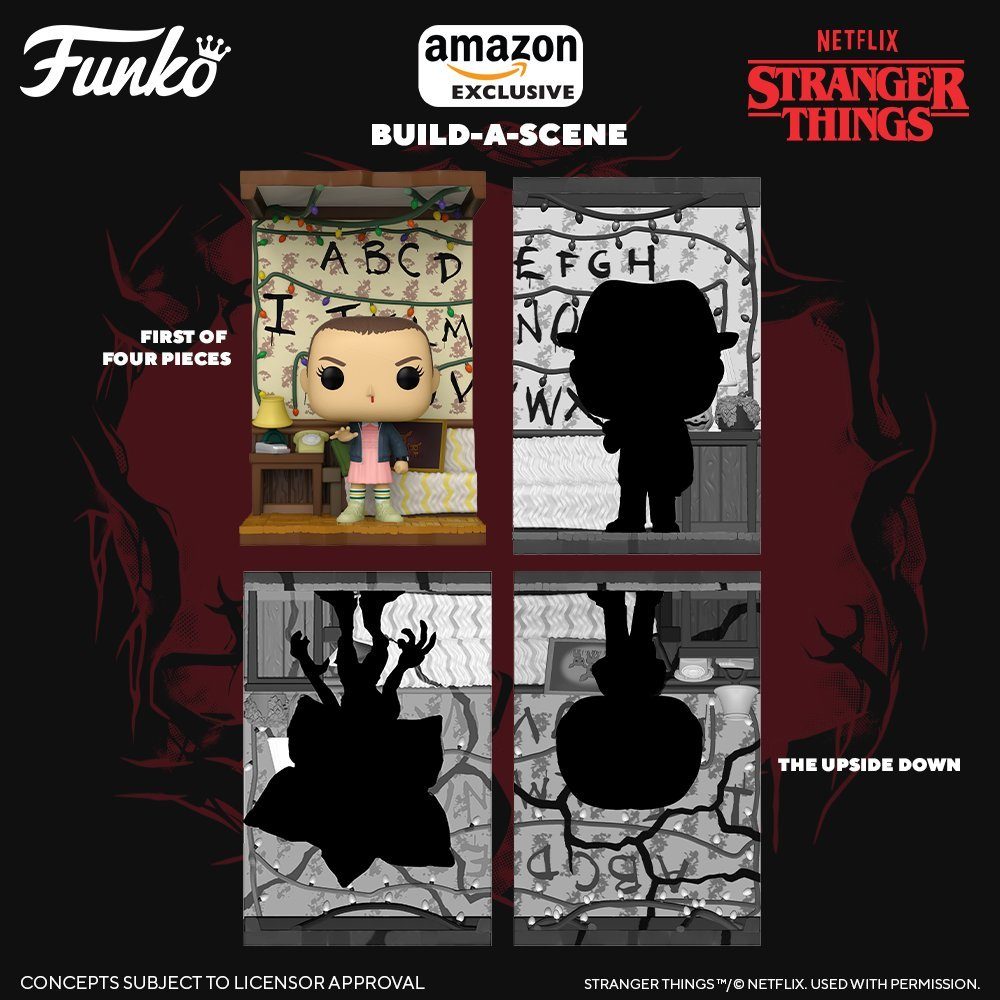 Funko offers to recreate a scene from Stranger Things in POP
Funko has just unveiled a new set from the Netflix series Stranger Things by offering to reenact one of the most memorable scenes from the first season. This set will be offered exclusively on Amazon and will consist of 4 POP Deluxe. Unlike the other "sets", this one is mirrored with two POPs in one direction and two POPs in the other and you will quickly understand why...
Remember the very first season of Stranger Things when the small town of Hawkins is shaken by the disappearance of Will Byers. We then discover that strange phenomena are taking place and seem to be linked to the Hawkins laboratory. From this same laboratory, a young girl, Eleven, with exceptional gifts, escapes, but also a strange creature that the group of children composed of Mike, Dustin and Lucas will call Demogorgon in reference to their wild games of D&D.
While Will is still missing, his mother Joyce realizes that strange things are happening with the lamps in her house and understands that it is Will who is trying to communicate with her. He is stuck in the upside down world and Joyce sets up Christmas lights with the letters of the alphabet written on the wall to communicate with him. This is the scene from which this brand new Stranger Things set is taken.
The setting of this "Build a scene" is the Byers' house with the wall tagged by Joyce and the Christmas lights hanging. We find Eleven with a bloody nose, showing that she has just used her power. She wears the pink dress lent by Will and the famous sneakers on her feet. While Eleven already has 17 POP figures in her likeness, this one is new, perfect for those who want to complete their Stranger Things POP collection.
The visual revealed by Funko doesn't really leave any surprise about the next characters that will compose the set... The silhouettes let guess Jim Hopper's hat that should stand next to Eleven, while the POPs in the upside down world will most likely be those of the Demogorgon and Will. It's still a surprise how Funko will have represented the house in the upside down world...
Please note: the sets of these POPs are perfectly designed to recreate the layout with the upside down world since they have a base and a "roof", so you can present the POPs in mirror with a block of 2x2 figures!
Franchises related to this news 💖