Announcement Coming Soon Event
Published on 24 January 2023 by Juliette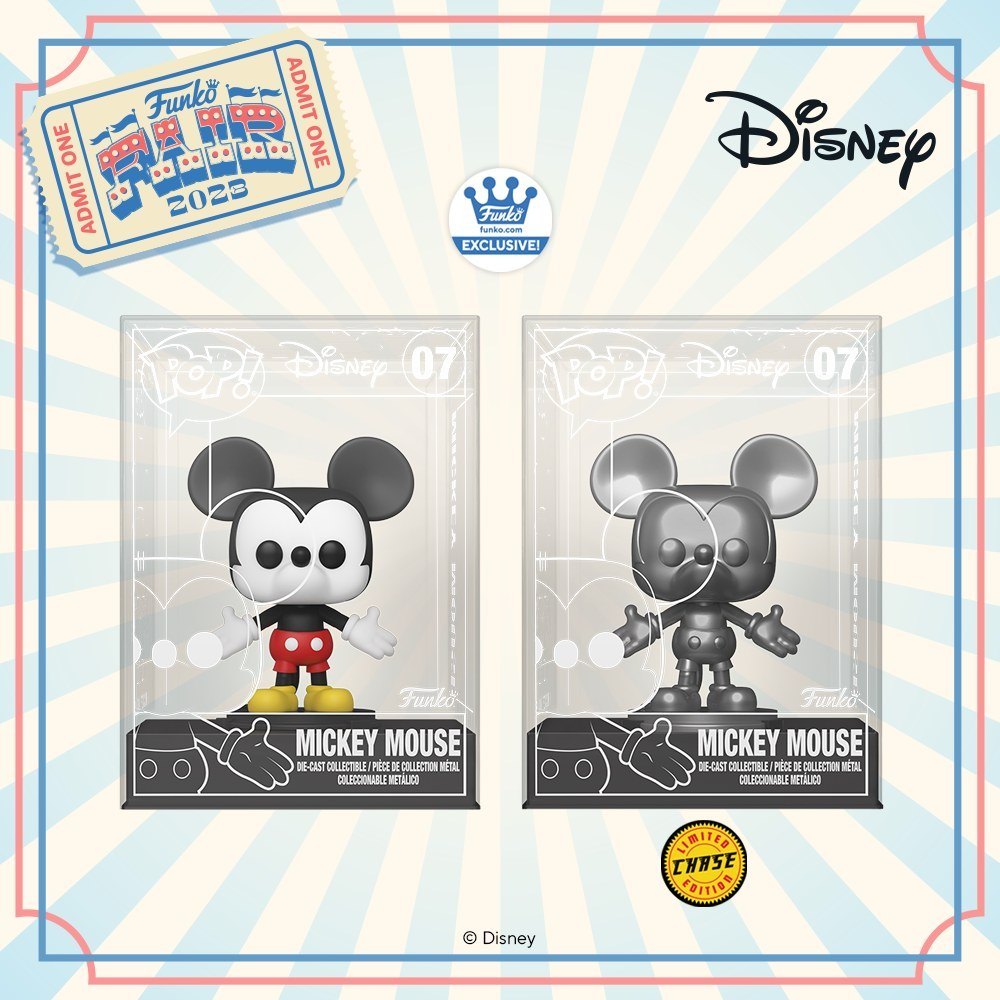 Funko celebrates 100 years of Disney with a special set
Disney is turning 100 years old and Funko couldn't miss such an anniversary. It is one of the most popular POP figure licenses and the potential is endless for collectors. Bringing magic, thrills, memories and emotions, Disney POPs have that little something unique.
Whether it's paying tribute to the classics that propelled Disney, showcasing Mickey and friends, immersing yourself in the Pixar films or riding the rides at Disney World, Funko recreates the magic of the universe with a wide range of figures.
The brand has unveiled a set for the "100 years", using the POP codes that fans like the most and revealing some very nice surprises with no less than thirty POPs (at the time of writing), some of which will be unveiled for the Funko Fair 2023.
Among the announcements, we discover a very nice tribute to Walt Disney, the "dad" of Mickey with several figurines in his likeness making very successful winks to the universe imagined by him: a POP where Walt Disney is leaning on a camera, the figurine where he holds in his hand two small characters from his imagination (Dumbo and Timothy), a beautiful POP in vintage style where Walt presents a drawing which is in fact a sketch of Mickey and finally a POP "Trains" where Walt Disney is standing in the train engine.
In addition to the Vintage POP of Walt Disney, Funko has declined other characters with this black and white effect. We find notably Dingo but also Mickey aboard a car representing the steamboat.
In a different style, we discover POP "Facets" with to start Minnie in her red dress but whose face is represented with an artistic effect. This is for the moment the only POP in this style but it seems that Funko is decided to decline this on other characters since rumors speak of Black Panther and R2-D2 which should be announced soon...
The POP Movie Posters recently unveiled are perfect to pay tribute to the great Disney classics (in addition to the VHS Covers of course) and Funko takes advantage of this anniversary set to unveil three new ones that will become "must haves" for Disney collectors: Mickey the Sorcerer's Apprentice, Pinoocchio and Snow White! Three iconic Disney's for these three POP's with the movie posters.
The "special" POPs don't stop there as Funko offers new POP Rides with Marry Poppins and Bert on the horses of the merry-go-round or Moana on her boat!
Another exceptional announcement: 4 Disney "Moment" POPs, representing unforgettable scenes from the films, starting with the "Hakuna Matata" POP with Simba, Pumbaa and Timon walking around humming the joyful rhythm of this mythical song! The other POP Moments are about couples with Princess Tiana and Naveen, Rapunzel and Flynn and finally Carl and Ellie. All of them are sublime and are once again a great way to immortalize your favorite Disney.
Finally, it is impossible to propose a Disney set without featuring the most popular "Princesses". Like the Disney Princess set, Funko has unveiled for the 100 years of Disney four princesses dressed in their most beautiful dresses and available in "Classic" or Diamond Glitter version: Aurora, Cinderella, Tiana and Elsa.
There is no doubt that other POPs will be added to this "Anniversary" set during the year, the opportunity to find the main Disney characters and to (re)collect them on our shelves.
Franchises related to this news 💖
POP related to this news 🧙‍♂️
🗯 News, deals, tips, coming soon,... Don't miss anything and join the community of Funko POP! fans