Announcement Coming Soon Event
Published on 26 September 2021 by Denis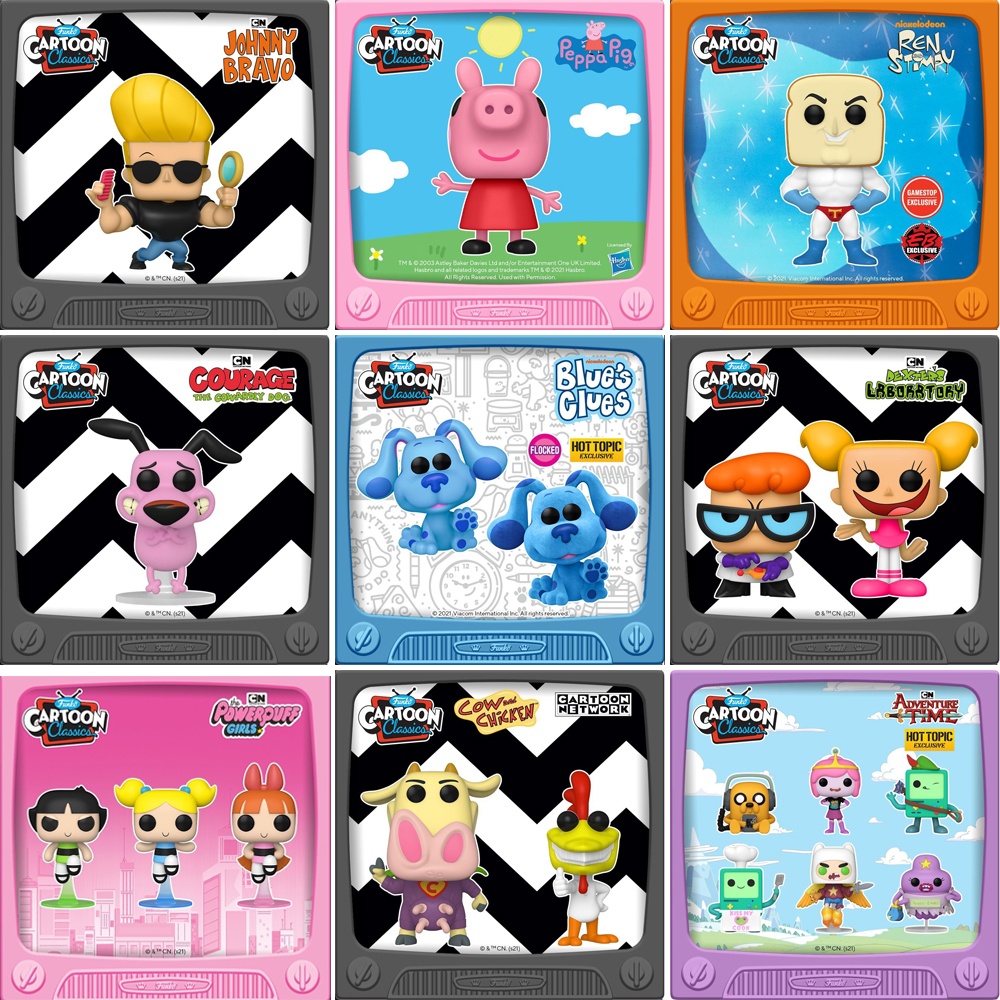 All Funko Cartoon Classics Announcements
New event, the Funko Cartoon Classics looks back at the cartoons of our childhood. Like a Proust's madeleine always appreciated by the fans, Funko proposes new POP figures that immediately plunge us back a few decades earlier...
For the Funko Cartoon Classics, Funko has unveiled 22 new POP figures featuring our old cartoons. There is something for everyone since the announcements go from The Powerpuff Girls to Adventure Time through the star cartoons of the Cartoon Network!
So we start these revelations with the wave of POPs from Cartoon Network cartoons with the cartoon Dexter's Laboratory for which Funko offers two great POPs: the one of the little genius Dexter of course, but also his sister Dee Dee. There is also a figure of Courage the Cowardly Dog, hero in spite of himself of the eponymous cartoon. Funko continues on CN with the POPs of Cow and Chicken, the characters of the cartoon based on the wacky idea of a chicken and a cow who are brother and sister. Finally, there could not be a Cartoon Network POP without the inevitable Johnny Bravo, the blond playboy who is as womanizing as he is silly!
Funko offers us POPs from other cartoons: the dog Blue from Blue's Clues (also available in Flocked version), the most famous pig Peppa Pig, the superhero Powdered Toastman from the series Ren and Stimpy or Fred Flintstone holding a spoon in his hand, as seen on the Fruity Pebbles cereal boxes.
The Powerpuff Girls already had POPs in their effigies but these were from 2017... Funko brings them up to date with new figurines of the three super heroines Blossom, Bubbles and Buttercup but also other cartoon characters with the POP of Fuzzy Lumpkinsand the one of Mojo Jojo.
Finally, this special day POP! Animation ends with the announcements of the Adventure Time series which benefits from 6 new POP figures: Jake the Dog, Lumpy Space Princess, Princess Bubblegum, Finn the Human as well as two POPs of BMO.
Franchises related to this news 💖
POP related to this news 🧙‍♂️