Announcement Coming Soon
Published on 02 October 2023 by Seb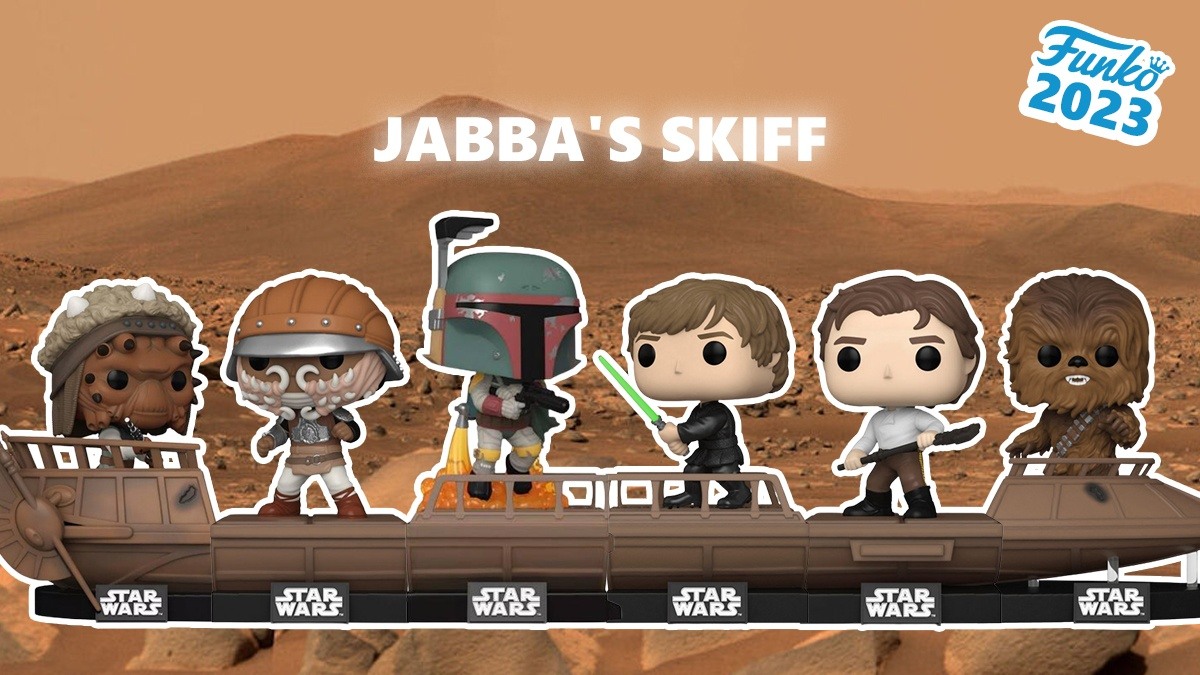 The Funko POP Star Wars set featuring Jabba's Skiff is finally complete
For the past few weeks, Funko has been gradually unveiling the 6 figures that make up one of the most eagerly awaited Assemblies by Star Wars fans, and it's finally here!
For the occasion, Funko has recreated Jabba the Hutt's Skiff, with the protagonists on board, ready to experience one of the most epic confrontations in Star Wars: the battle in the sands of Tatooine above the Sarlacc pit.
No fewer than 6 Star Wars POP figurines fit together one by one to recreate the ship, with each piece of the bridge fitting neatly into place. On board you'll find :
Bounty hunter Boba Fett in battle with Jedi Luke Skywalker ;
on the left, at the front of the hovercraft, Han Solo and Chewbacca stand ready to intervene;
while on the right (rear), the galaxy's most loyal smuggler and ally Lando Calrissian and the dedicated guard Nikto rush in.
This assembly from Star Wars is a perfect piece for collectors of the saga. Indeed, the hovercraft - christened Bantha-II - is not just any vehicle. While it may look rather basic, it was in fact modified by Jabba the Hutt to become a veritable execution platform above the Great Pit of Carkoon... It was during this battle that Luke Skywalker almost perished, and the suspense was at its height. Skywalker and his allies, including Han Solo and Chewbacca, who are also featured on this set, had to show their courage once again.Funko completes the Jabba's Skiff (Star Wars) set with 6 figures.
Funko's hallmark is perfectly evident in this new set: from the character details on the figurines, to the meticulous attention to detail on the Bantha-II, everything is perfect! Position the set in a sandy environment and you'll feel as if you're reliving the battle with the Bantha-II floating above the sands of Tatooine, the same battle that would lead Jabba the Hutt to his doom and doom Boba Fett in the Sarlacc.
Franchises related to this news 💖
POP related to this news 🧙‍♂️
🗯 News, deals, tips, coming soon,... Don't miss anything and join the community of Funko POP! fans