Announcement Coming Soon
Published on 19 January 2022 by Seb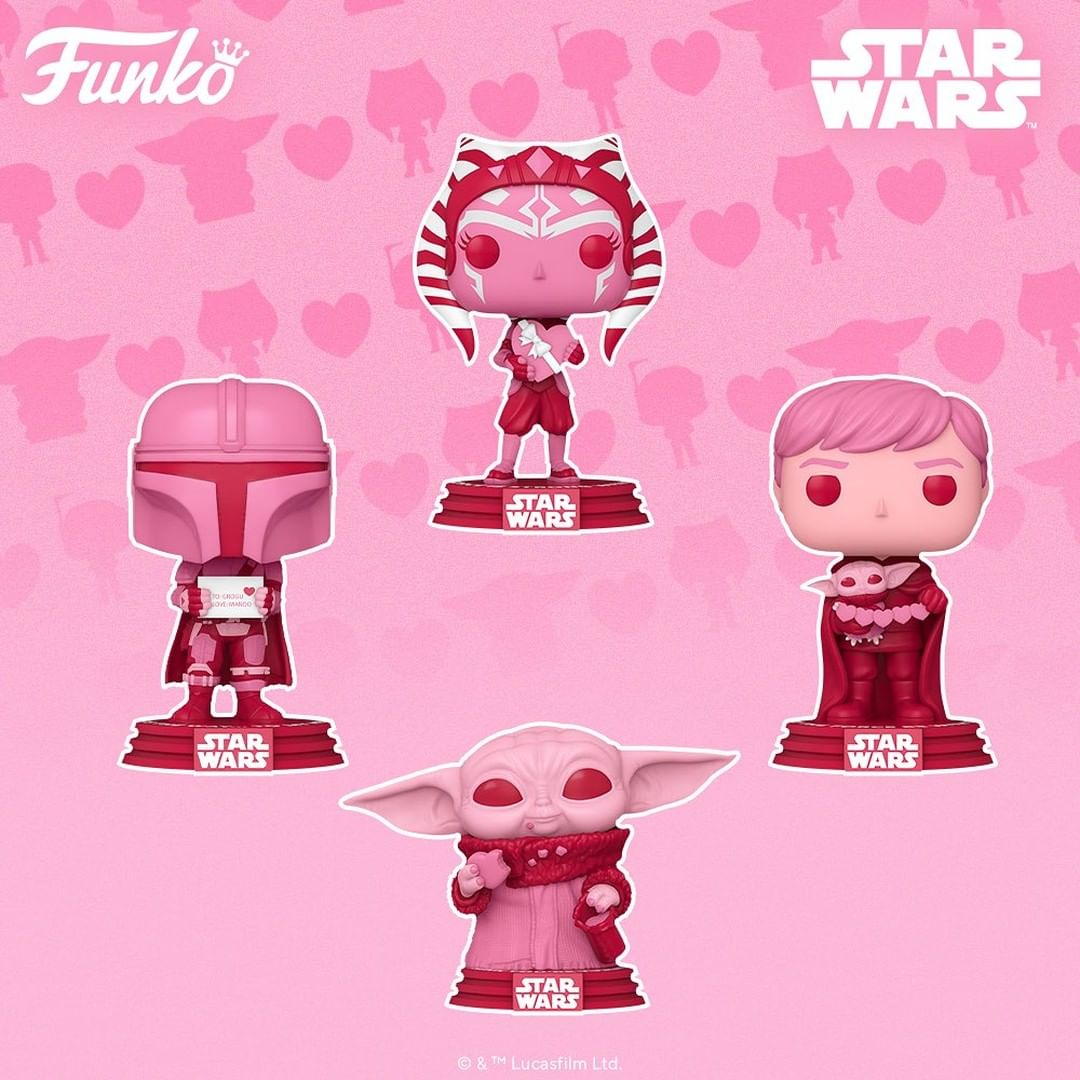 6 Star Wars POPs in pink for Valentine's Day
About this time last year Funko unveiled all pink Star Wars POPs to celebrate Valentine's Day. It seems that the concept is successful since the POP brand is doing it again this year with no less than 6 new POPs perfect for lovers, and lovers fans of Star Wars.
If the concept is the same: the Star Wars characters in full pink (in a gradient going from dark pink almost red to very light pink), this year Funko has focused more particularly on the series The Mandalorian. Indeed, the 6 new Valentine's Day special Star Wars POP figures are in the effigy of the characters of the series broadcast on Disney+.
Last year, Funko had taken the emblematic characters (Darth Vader, Chewbacca, Yoda, R2-D2, etc.), painting them all in pink and adding a detail reminding the lovers' day: a heart-shaped box that each character held in his hands. For this year, Funko has pushed the envelope a little further with more integrated details to the different POPs.
Among the announcements are:
Grogu (the child/baby Yoda) devouring a cookie, as seen on the original POP #465, except that for this special Valentine's Day version, the cookie has been replaced with a cute heart-shaped cake;
Luke Skywalker holding Grogu in his arms, variant of POP #482. Again a very endearing detail as Luke and Grogu are each holding the end of a heart-shaped garland in one hand;
It couldn't be a set from the Mandalorian without a POP of the Mandalorian himself... The third POP is thus with the effigy of the central character and we discover him holding firmly a letter on which is written: "For Grogu. Affectionately. Mando", a touching and very funny wink;
The pink POP of Ahsoka which takes the features of the Star Wars Saint Valentine POP of 2021 since the character holds in his hands the same box (of chocolates?) in the shape of a heart, with its small white ribbon;
Bo-Katan has also been declined in a POP for Valentine's Day. Dressed in his armor, he holds in his hands, not a gun as we can see on POP #463, but a lovely bouquet of roses... ;
Finally, the last POP is the one of the Mandalorian holding Grogu in his hands. Grogu is holding a small heart-shaped box (but already quite big for him!) on which we can read "I love you". Is there a more perfect gift than a declaration of love from Grogu?
Franchises related to this news 💖
POP related to this news 🧙‍♂️