Announcement Coming Soon Event
Published on 16 February 2022 by Seb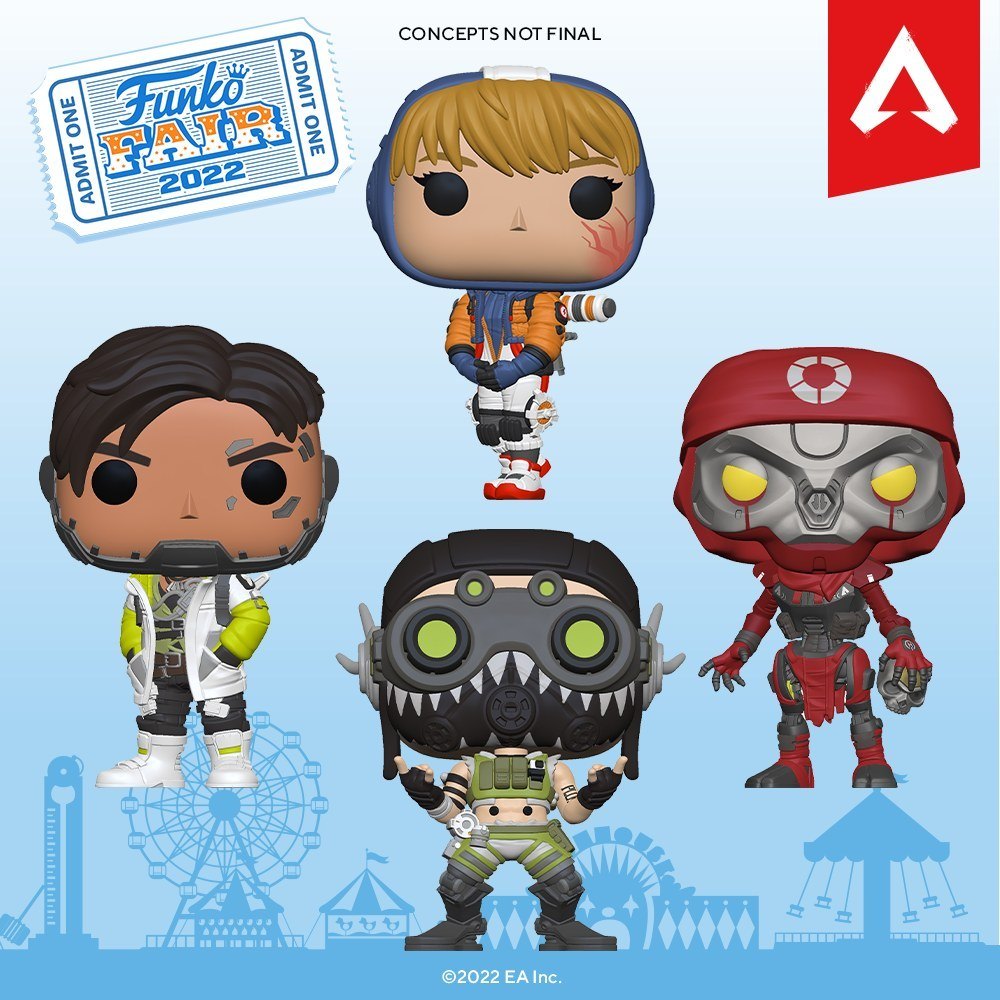 4 new Apex Legends characters popified
Funko continues the Funko Fair 2022 video game announcements with a jump this time to publisher AE and the Apex Legends license. The Apex Legends POP set was already well stocked, but the most recent Apex POPs date back to the release of Battle Royale in 2019... So it's a license that Funko seems to want to dust off for the delight of fans!
The premise of the game is simple: 60 players compete on a map that gets smaller and smaller until one team triumphs by decimating its opponents... With weapons, loot, ammo, maps and various characters, all the ingredients are there to make the battles epic.
Among the announcements of the 4 new Apex Legends POPs are:
Octane : Octavio Silva (his real name) was born with a silver spoon, he is the son of the CEO of Silva Pharmaceuticals but he quickly wanted to get away from his muffled world in favor of thrills. Defying death almost daily, this hothead lost the use of his legs to a grenade. Now equipped with bionic legs, he has entered the arena of the Apex Games;
Crypto: He's the geek of the bunch, an expert in surveillance and a genius hacker, he launches his drones to spy on his opponents without being detected. But Cryto (aka Tae Joon) is not just a geek and if he started the games it is mainly to get back at those who wrongly accused him of killing his sister;
Revenant : he was the most feared hitman of the Mercenary Syndicate... Transformed into a robot, he dedicated his second life to hunt down those responsible for his death, even if it means exterminating everything that stands in his way, including the Legends..;
Wattson : Natalie "Wattson" Paquette is the daughter of the engineer in charge of the electrical installation of the Games. Like her father, she has a passion for electricity and its incredible abilities, making her a dangerous character in Apex Legends with her many defensive abilities.
There couldn't be so many Fortnite POP figures and so few Apex Legends... The balance is not yet restored but with these 4 new POPs, this brings the set to a total of 16 figures of Apex Legends characters. This announcement is sure to delight the 100+ million players who have spent or are spending hours on the battlefield!
Franchises related to this news 💖
POP related to this news 🧙‍♂️
🗯 News, deals, tips, coming soon,... Don't miss anything and join the community of Funko POP! fans