POP action figure of Grimmjow with Sword
#349
When Aizen finally decided to betray the Gotei 13, he returned to Las Noches, his palace located in the Hueco Mundo: the spiritual world where the Hollows live. There, Aizen managed, thanks to the Hogyoku, to create a new kind of army in order to invade the Soul Society. This army was not composed of Hollows, but of evolved versions of Hollows.
By splitting the Hollow's mask with the Hogyoku, Aizen was able to develop the power of many Hollows, all of which took human form. They were then called Arrancars. The most powerful of these Arrancars were numbered from 1 to 10 (although in reality, the count went from 0 to 9), and formed the first circle of fighters serving under Aizen; he gave them the name Espada.
Grimmjow Jaggerjack was one of these Espadas and wore the number 6, which was tattooed on his left kidney. He was sent to the Soul Society with his Fraccions - low-ranking Arrancars serving directly under him - to test the waters. There, he suffered a major setback and returned to Las Noches empty-handed. For his affront, Tousen cut off his arm and he was banished from the Espada, later replaced by Luppi.
Grimmjow regained his rank after being healed by Orihime; eliminating Luppi with a simple Cero, proving his superior power. He was also the one who confronted Ichigo when the latter arrived in Las Noches for a rematch after both had become mortal enemies. After being defeated and left for dead, Grimmjow would later reappear to everyone's surprise during the Sternritter invasion after being restored and trained by Urahara. The former Espada of Aizen, then, will fight alongside Ichigo despite their past grudge.
The Funko POP figure of Grimmjow is true to the character, right down to his posture. Very casual, Grimmjow is often seen with his hands in his pockets wherever he goes. The Grimmjow Funko POP is also wearing the typical Arrancar clothing, which is all white.
Grimmjow's figure wears his Zanpakutô at waist level and in front of him. Like all Arrancars, Grimmjow has kept part of his old Hollow mask. Thus, the Grimmjow POP figure is naturally distinguished by the piece of jaw with sharp teeth that covers his cheek. This remnant is then what remains of him from the time when he was still an Adjuchas, already feared by his people at the time.
As one would expect, Grimmjow's figurine is obviously dotted with his cyan colored hair on top of his skull. An emblematic haircut of this character so loved by Bleach fans. Finally, the Grimmjow POP figure has two green traces of makeup around his eyes to accentuate the lines of his face with sharp features.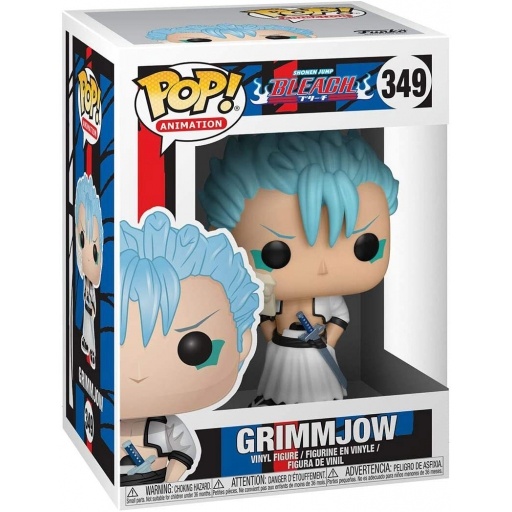 Funko POP Grimmjow with Sword figure in its box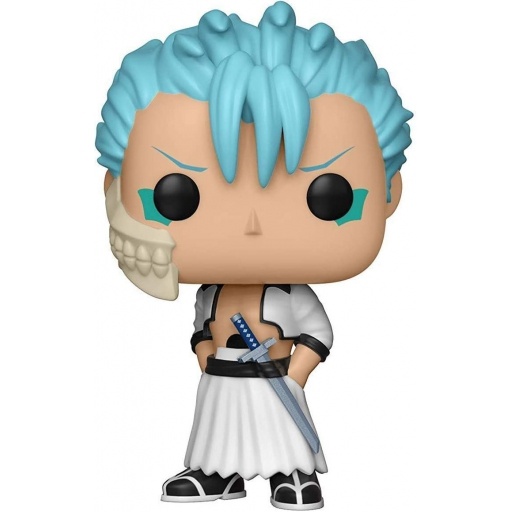 Funko POP Grimmjow with Sword figure unboxed
Grimmjow with Sword POP reviews 💖
| | | |
| --- | --- | --- |
| 5⭐ | | 1 rater |
| 4⭐ | | 1 rater |
| 3⭐ | | 0 rater |
| 2⭐ | | 0 rater |
| 1⭐ | | 0 rater |
What price for Grimmjow with Sword POP figure ?
The action figure of Grimmjow with Sword, from the Bleach franchise is a POP which came out in October 2018.
According to its features, its selling price is estimated at:
34.00$
Warning: this POP is relatively old and can be difficult to find in stores or on the internet. You will have more chance to get it on platforms between private individuals but this rarity can make its price go up... 🤔
About this action figure ✔
| | |
| --- | --- |
| Action figure | Grimmjow with Sword |
| Item box | 349 |
| UPC Code | 889698217033 |
| Manufacturer | Funko |
| Brand | Funko POP! |
| Release date | 31 October 2018 |
| Size | 10 cm / 3.75'' |
| Franchise | Bleach |
| Character | Grimmjow |
| Licence | VIZ Media, LLC |
| Category | POP! Animation |
| Status | 👍 Available |
🗯 News, deals, tips, coming soon,... Don't miss anything and join the community of Funko POP! fans