POP action figure of Ichigo (Chase)
#1087
Ichigo Kurosaki, after acquiring Shinigami powers from Rukia, was not satisfied with just those powers. He developed his powers to the furthest extremes and even went beyond. With Shinigami powers from his father and Quincy powers from his mother, Ichigo had innate powers that no one else could master. But in addition to these characteristics, Ichigo also had the merit of being able to tap into the power of the Hollow within him.
It all began when he trained with Kisuke Urahara, who helped him develop his powers. During this grueling session, Ichigo managed to find the strength he lacked to become an accomplished Shinigami, narrowly missing turning into a Hollow after Kisuke cut a hole in his chest.
As a result of this experimental training, Ichigo found a mask that resembled that of a Hollow in many ways. A mask that even saved him from a fatal wound, as it was meant to protect him. After having mastered his Bankai, it is during his confrontation with Byakuya that Ichigo was partially transformed into Hollow. Only the Hollow mask appeared on his face, but the Hollow inside him, also known as white Zangetsu, took over for a moment to tap into a gigantic source of power and defeat Byakuya.
While trying to learn more about this dangerous power, Ichigo met the Vizards who, like him, were Shinigami who could use the powers of Hollows. He learned to control his Hollowification, although he could only use it for a few seconds a day. Thanks to this power, he was able to defeat Grimmjow and many Arrancars during the Hueco Mundo invasion. However, this power was not enough to defeat Ulquiorra; Ichigo transformed himself completely into a Hollow to defeat him, risking never being the same person he once was.
The Funko POP figure of Ichigo with his Hollow mask represents him as he appears each time he uses this power. Simply by placing his hand in front of his face, he materializes a mask whose design is typical of Hollows. Since Ichigo uses this power when he is in Bankai state, it is not surprising that the Funko POP of Ichigo with his Hollow mask is dressed as the character appears when he uses his Bankai.
Indeed, the figurine of Ichigo as a Vizard gives him a more threatening look than usual. And for good reason, the mask he generates in this state allows him to access a monumental power. The mask's terrifying yellow eyes make Ichigo's POP figure in Hollow appear crueler than ever. The character, indeed, is known for the infinite brutality of the blows dealt in this state, especially when the white Zangetsu takes over. However, judging by his posture, the Funko POP figure of Ichigo with his Hollow mask appears to be calm and composed, suggesting that the character is depicted in full control.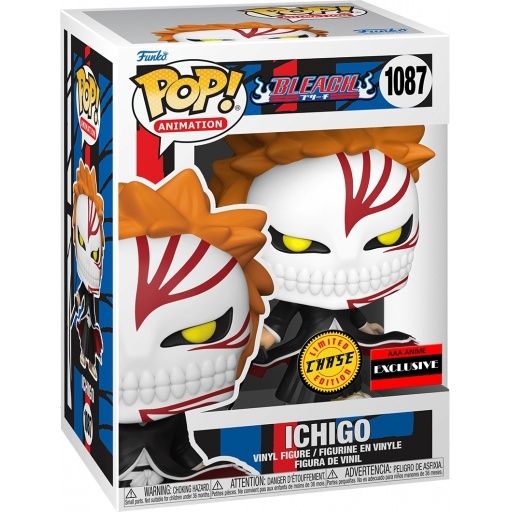 Funko POP Ichigo (Chase) figure in its box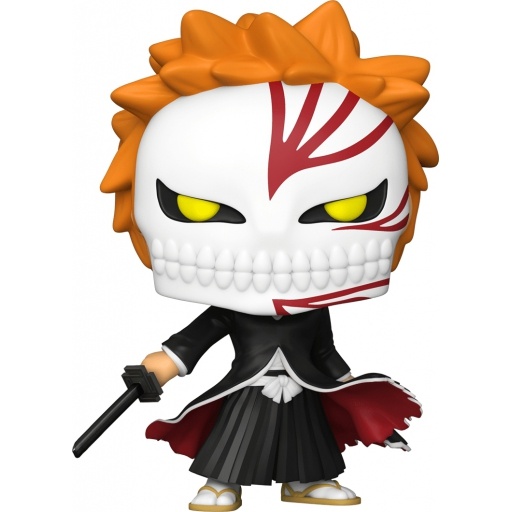 Funko POP Ichigo (Chase) figure unboxed
Ichigo (Chase) POP reviews 💖
| | | |
| --- | --- | --- |
| 5⭐ | | 4 raters |
| 4⭐ | | 0 rater |
| 3⭐ | | 0 rater |
| 2⭐ | | 0 rater |
| 1⭐ | | 0 rater |
What price for Ichigo (Chase) POP figure ?
The action figure of Ichigo (Chase), from the Bleach franchise is a POP which came out in October 2021.
According to its features, its selling price is estimated at:
18.00$
About this action figure ✔
| | |
| --- | --- |
| Action figure | Ichigo (Chase) |
| Item box | 1087 |
| UPC Code | 889698561167 |
| Manufacturer | Funko |
| Brand | Funko POP! |
| Release date | 28 October 2021 |
| Size | 10 cm / 3.75'' |
| Franchise | Bleach |
| Character | Ichigo Kurosaki |
| Licence | VIZ Media, LLC |
| Category | POP! Animation |
| Status | 👍 Available |
| Features | Exclusive |