POP action figure of Ichigo
#1087
Ichigo, in Japanese, means "strawberry". This simple name justified the title of the first chapter of Bleach entitled The Death and The Strawberry. "The Death" referred to Kuchiki Rukia, this Shinigami - God of Death in French - who met "The Strawberry" in a fortuitous way and was forced to pass on her powers. That, so that this one can overcome the gigantic Hollow which threatened their life as well as that of the sisters of Kurosaki.
He, who was a quiet and apathetic high school student, was then forced to become a substitute Shinigami, working on behalf of Rukia until she could finally recover her powers. In her name, he risked his life to confront the most monstrous Hollows and gathered around him a small team of people who, like him, could see spirits. Thus, he was accompanied by Orihime, Sado and Ishida, who stayed by his side when Ichigo went to risk invading the Soul Society.
Because after Rukia was kidnapped and sentenced to death by the Shinigami order, Ichigo didn't hesitate to risk his life and to penetrate in unknown territory where all the forces were hostile to him. There, he multiplied the confrontations. He managed to get his revenge against Renji Abarai, and above all, succeeded in defeating the formidable Zaraki Kenpachi, who was known to be invincible.
But he lacked strength and his opponents were still numerous and formidable. So, if he wanted to defeat them, Kurosaki Ichigo had no other choice than to gain in power. He managed to do this by following Yoruichi's training who tried to initiate him to Bankai. She even helped him during their final assault before what was to be Rukia's execution. Ichigo's Bankai, contrary to the classic Bankais, was not characterized by the inordinate strength that resulted from it. On the contrary, Ichigo's Zanpakuto was smaller than before, and nothing but his uniform really changed. And yet, this Bankai allowed him to defeat Kuchiki Byakuya among many other opponents.
So, the Funko POP figure of Ichigo represents him here in his Bankai form. It is no longer a question of him wearing a Shinigami uniform, although the tones of his clothes are related to it in many ways. Indeed, the uniform of Ichigo in Bankai mode keeps the bottom of his kimono black while the top, somewhat different, is half-open to the point of flapping like a cape with each of his quick movements.
The POP figure of Ichigo with his Bankai is obviously equipped with his Zanpakuto. This one, much more discreet than in his Shikai form, appears as a long black katana whose guard takes the shape of a Buddhist swastika. The Funko POP Ichigo, since it is in Bankai form, looks like a fighter while the Zanpakutô is drawn and away from the body, as if ready to slash an enemy located nearby.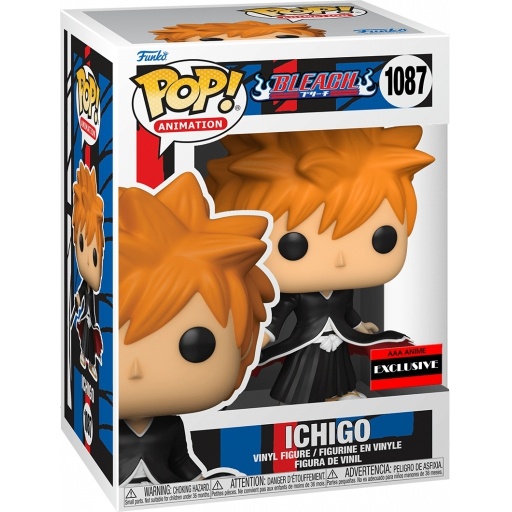 Funko POP Ichigo figure in its box
Funko POP Ichigo figure unboxed
Ichigo POP reviews 💖
| | | |
| --- | --- | --- |
| 5⭐ | | 0 rater |
| 4⭐ | | 1 rater |
| 3⭐ | | 0 rater |
| 2⭐ | | 0 rater |
| 1⭐ | | 0 rater |
What price for Ichigo POP figure ?
The action figure of Ichigo, from the Bleach franchise is a POP which came out in October 2021.
According to its features, its selling price is estimated at:
14.00$
About this action figure ✔
| | |
| --- | --- |
| Action figure | Ichigo |
| Item box | 1087 |
| UPC Code | 889698561167 |
| Manufacturer | Funko |
| Brand | Funko POP! |
| Release date | 28 October 2021 |
| Size | 10 cm / 3.75'' |
| Franchise | Bleach |
| Character | Ichigo Kurosaki |
| Licence | VIZ Media, LLC |
| Category | POP! Animation |
| Status | 👍 Available |
| Features | Exclusive |