Announcement Coming Soon
Published on 28 June 2023 by Juliette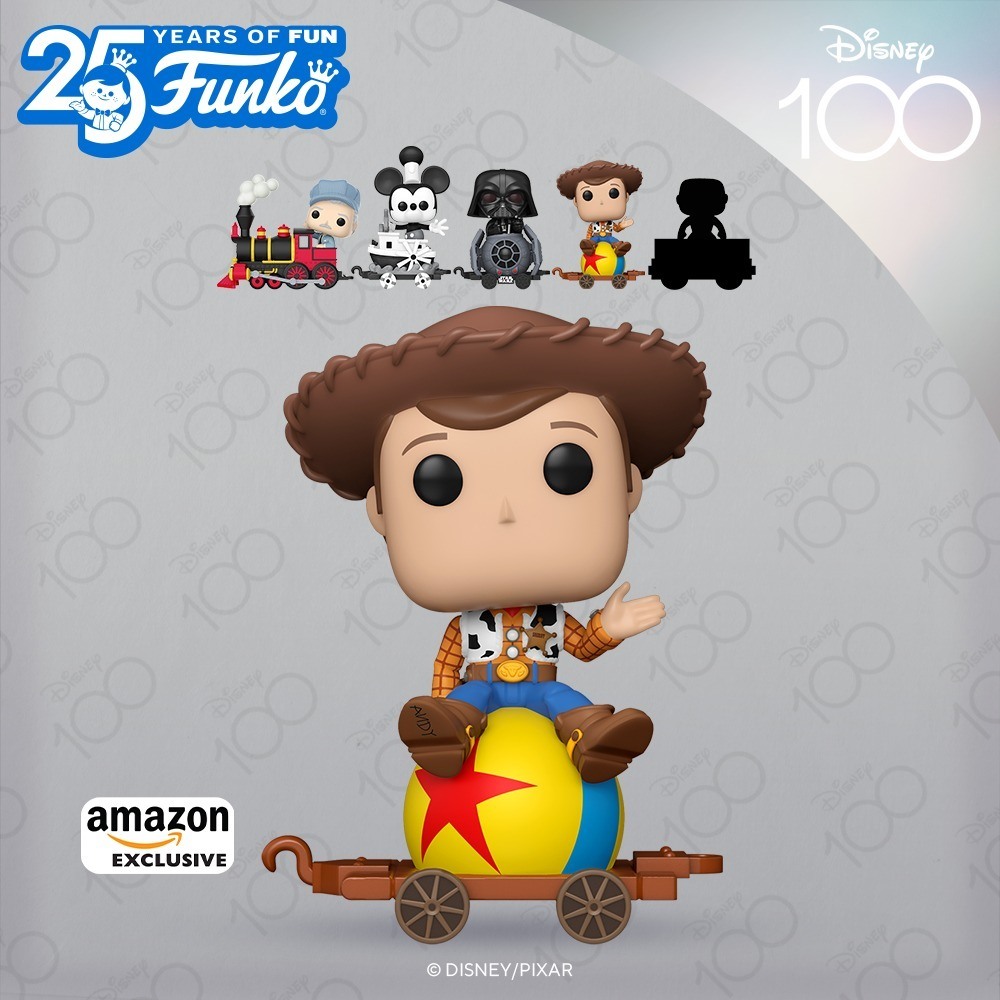 Woody rides the Disney 100 train
To mark Disney's 100th anniversary, Funko has unveiled an exceptional train set featuring figures from the entire studio universe. Each of the figurines, a tribute to a major Disney theme, is aboard a carriage, and the carriages can be linked together to form the big train.
For this new wagon (the 4th of five in the set), Funko plunges us into the Pixar universe. Who better to represent Pixar Studios than Woody and the Toy Story saga? We discover a POP of the cowboy, young Andy's favorite toy. Appreciated for his caring personality and courageous, loyal character, Woody is a fan-favorite and instantly recognizable with his signature outfit.
Of course, you can count on Funko to create an ultra-faithful Woody POP figure. All the details are there: from his elongated face with its naive gaze to his cowboy attire: blue jeans, plaid shirt, cowhide jacket and brown hat. Funko depicted Woody sitting on the Luxo balloon, waving to the crowd as if attending the Disney parade.
By sitting Woody on the Luxo balloon, Funko has managed another perfect nod to Pixar. Indeed, this balloon is one of the studios' best-known easter eggs, a tribute to the very first "Luxo Jr." short film made by Pixar in 1986, which aimed to demonstrate Pixar Studios' know-how. In this mini-film, which lasts less than 3 minutes, we discover the desk lamp that will become the logo, as well as the famous yellow and blue balloon with its red star.
Why is this set so special? Because each of the characters represents one of the pillars of the Disney studios, and is unquestionably the must-have character in his or her category. What's more, Funko is offering a combo with the cars, each of which is also shaped in a different way to reflect the character's universe (the ship for Darth Vader, the boat for Mickey, etc.). And last but not least, because the Disney Train is clearly one of the best ways of bringing all Disney together in a single anniversary set!
Only one POP left to complete the set. Can you guess which Disney universe it's from and which character will be chosen?
Franchises related to this news 💖
POP related to this news 🧙‍♂️
🗯 News, deals, tips, coming soon,... Don't miss anything and join the community of Funko POP! fans