Announcement Coming Soon
Published on 14 April 2022 by William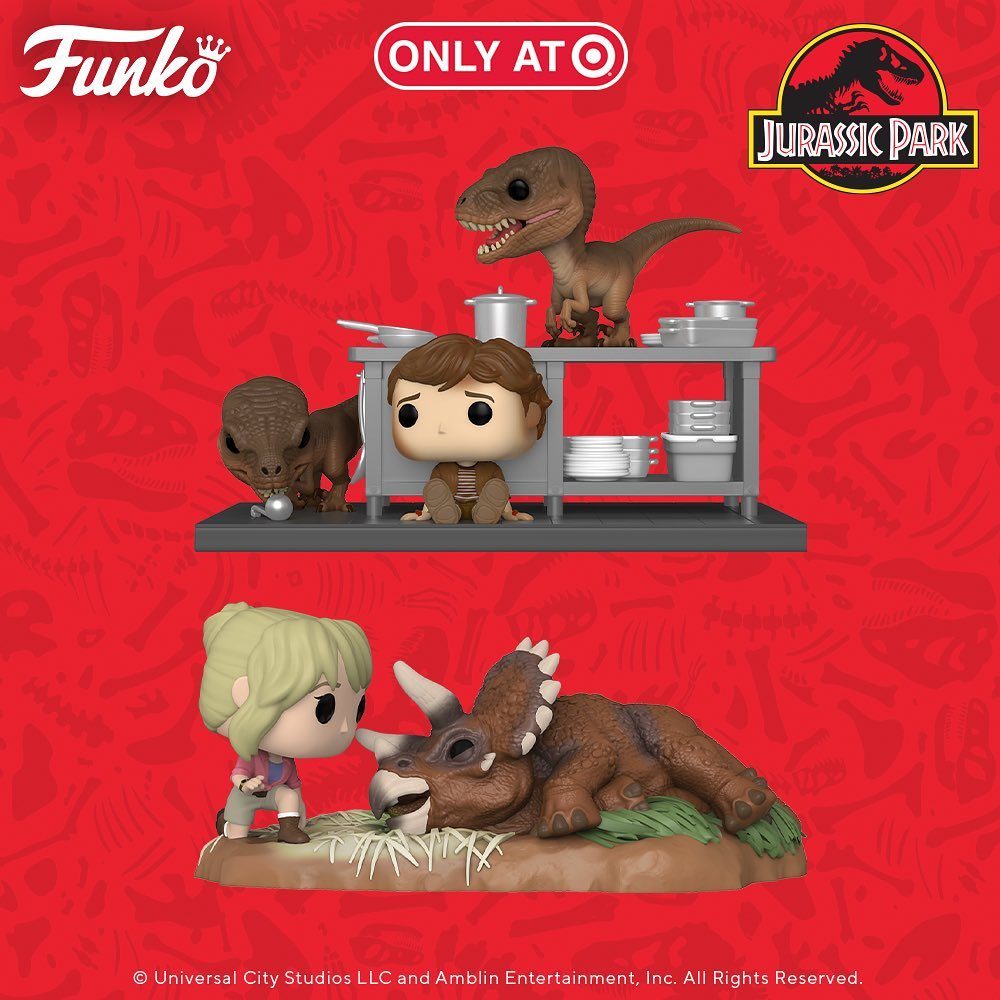 Two Movie Moment Funko POP from Jurassic Park
Jurassic Park fans are spoiled by Funko. After the recent announcement of the POP figure reproducing the poster of the movie and featuring a T-Rex in a Supersized POP, Funko has just announced two new exceptional POPs as they are two "Movie Moment" figures taken from parts of the very first movie.
The two POPs immediately bring us back to the cult scenes of the movie and they are just perfect as they feature dinosaurs and central characters from Steven Spielberg's masterpiece.
The first POP is that of Doctor Ellie Sattler at the bedside of a sick triceratops. As the little gang continued their discovery expedition through the incredible park, the curiosity of some members, including Dr. Sattler, was too strong, and they got out of the vehicles to go meet the dinosaurs. When Ellie Sattler discovers this sick triceratops, she immediately sets out to find out what is wrong, not hesitating to do her research in a huge pile of dinosaur feces... The POP perfectly reproduces the moment when Ellie gets as close as possible to the triceratops, even if we would have liked to have also had on the POP Dr. Alan Grant who also sticks to the dinosaur to listen to its breathing!
The second POP Movie Moment of Jurassic Park focuses again on a cult scene: the scene where the children (Tim and his sister Lex Murphy) are chased by the velociraptors. The two children hide in the park's kitchens, thinking they are safe... until the velociraptors show an incredible ability to open the doors! The POP shows young Tim trying to hide from his predators. Two velociraptors surround him, one even balancing on one of the tables while the other one is looking at a ladle with curiosity, the noise of which caught his attention when it fell on the ground.
Also note that Funko unveiled a third POP that is the Glow in the Dark variant of the Dilophosaurus with the open crest (POP #550), one of the star dinosaurs of the movie as well.
Franchises related to this news 💖
🗯 News, deals, tips, coming soon,... Don't miss anything and join the community of Funko POP! fans