Announcement Coming Soon
Published on 05 May 2022 by Ugo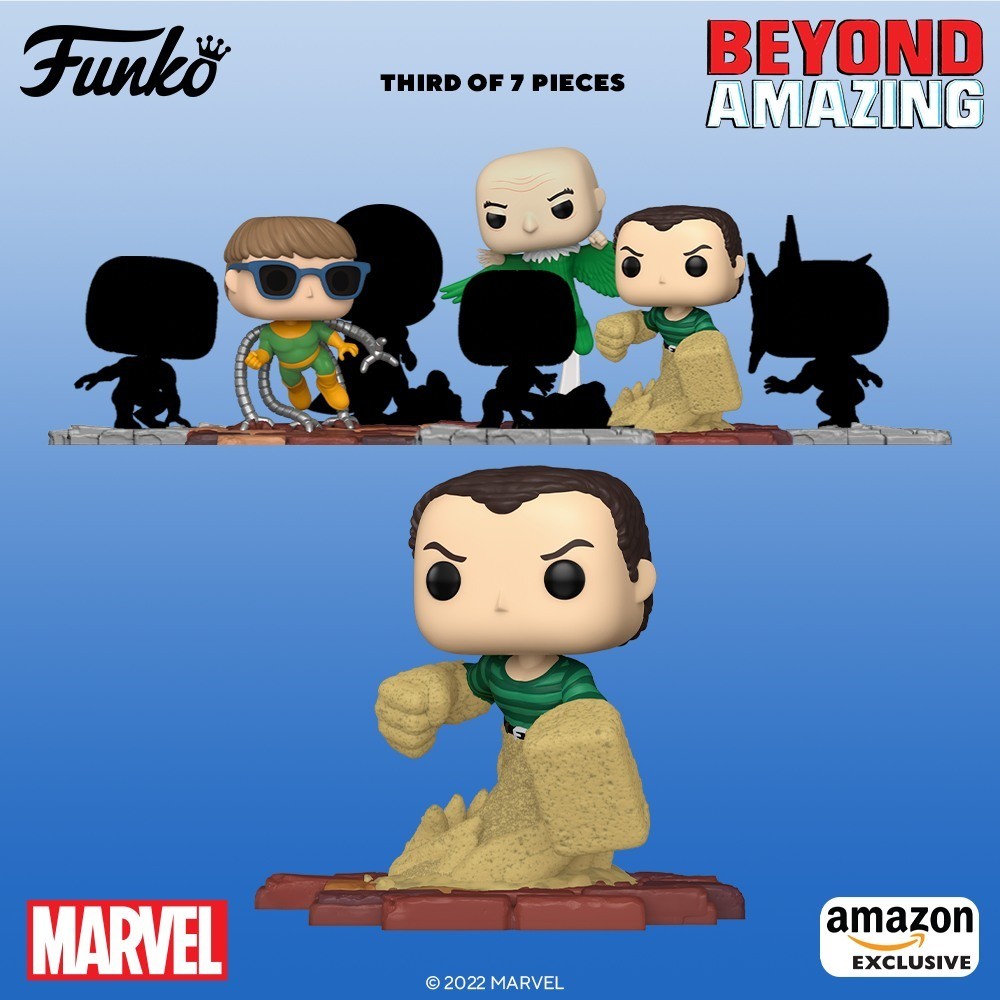 Third POP of the Sinister Six set with The Sandman
Funko is slowly unveiling the POPs that make up one of the most incredible Marvel "Assemble": Sinister Six versus Spider-Man where Doctor Octopus has assembled Spider-Man's most powerful enemies.
This Amazon exclusive set was first revealed in December 2021 and since then only two figures had been fully revealed: Dr. Octopus and the Vulture... Now comes the third POP (and third enemy) to make up the Sinister Six set: the Sandman.
Sandman versus Spider-Man
The Sandman a.k.a. Sandman a.k.a. Flint Marko (his fake name) a.k.a. William Baker (his real name!) is one of the most famous enemies in Spider-Man, so it's only natural that Octopus would call upon him to try and take down Spider-Man.
Like all Marvel characters, Sandman has a tumultuous past that led him down the path of crime, and thus to face Spider-Man. Indeed, while working on a construction site, William Baker came into contact with sand irradiated by nuclear tests, giving him incredible abilities that he could not control.
With incredible strength and resistance, but above all the ability to take on any shape and change size invariably, Sandman is a tough enemy for Spider-Man...
A set of 7 POP figures in total
As with the (rare) "assemblies", the 7 POP figures in this set will fit together to recreate a scene where we find the Sinister Six facing Spider-Man. They are therefore POP Deluxe (with a base) where the details on each figure are particularly well done.
If Funko is used to these POP assemblies with the Avengers, fans of Spider-Man will be particularly delighted to be able to collect and build the incredible scene with the most fearsome enemies of the superhero. Especially since the occasion is perfect because Marvel is celebrating 60 years of Spider-Man!
What will be the next enemies of Spider-Man?
If Funko takes its time to reveal the figures and characters that make up this set, the overall visual with the shadows of the missing POPs leave little doubt about the casting! So we are waiting for the announcements with Mysterio, Kraven and Electro.
The seventh and last POP will of course be Peter Parker aka Spider-Man. Will he be able to overcome this formidable battle?
Franchises related to this news 💖