Announcement Coming Soon
Published on 15 April 2023 by William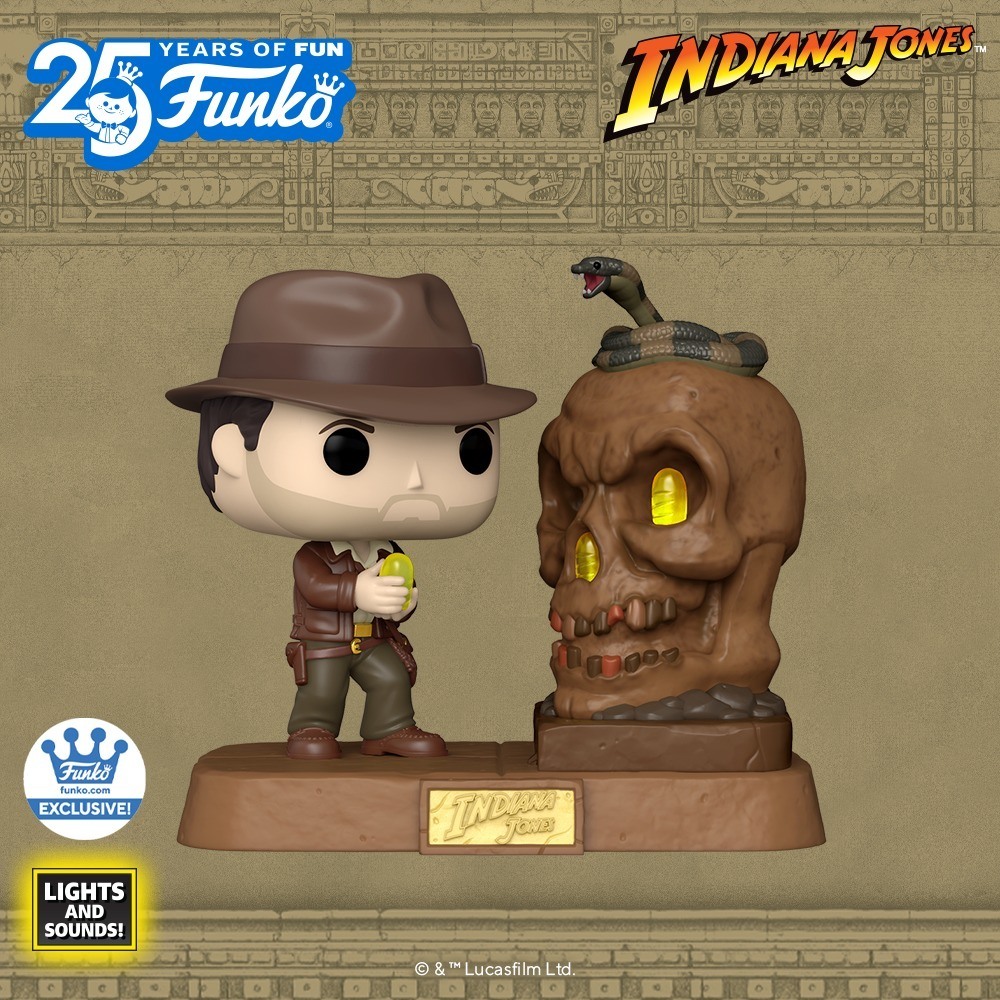 Rising tide of Indiana Jones Funko POP
If Funko already proposed POPs from Indiana Jones, the set was very limited (6 POPs released between 2016 and 2020 only...) while the potential seems huge as the movies of the famous adventurer are so exceptional. Funko seems to agree since the figurine brand has just unveiled a real tidal wave by announcing about fifteen figurines from the Indiana Jones universe!
With this incredible announcement, Funko is bringing adventure, traps, treasure hunting and everything that makes up the Indiana Jones universe to your home. The new POPs feature many of the characters from the films, including Indy himself of course, but also his faithful sidekick Sallah, the sinister Toht, the adorable Short Round, the fierce Marion Ravenwood and Henry Jones Sr. (played by the no less legendary Sean Connery).
In total, there are fifteen Indiana Jones POP figures with some very nice pieces including :
The POP Deluxe of Indiana Jones running in front of a huge ball ready to crush him
The POP Rides of Indiana Jones and his father Henry Jones on a motorcycle
The Die-Cast POP of Indiana Jones with the golden idol available in original or Chase Metallic version
And finally for those who want to whistle the Indiana Jone tune, the Lights and Sound POP from Temple of Doom
For Die-Cast collectors, the Indiana Jones POP is a perfect tribute to the character and the movies. It features THE Indiana Jones in his most faithful representation with his leather jacket, fedora on his head, whip in one hand and the golden idol in the other. The perfect opportunity to have a miniature version of Harrison Ford at home!
Fans of Indiana Jones will love to dive back into George Lucas' universe with these very faithful POPs. They plunge us entirely into the adventures, the humor and the endearing characters. Whether it's knocking out Nazis, dodging traps or swinging across chasms, Indiana Jones keeps us on our toes every time he performs a daring feat.
What if Funko kept it up? Among the unforgettable scenes of Indiana Jones, we would like Funko to immortalize some more, like when Indy barely recovers his fedora while a heavy stone door falls on him in Raiders of the Lost Ark or the incredible descent by mine cart in Indiana Jones and the Temple of Doom. As much to say that the potential of new POPs is just huge and that we can't wait to see it!
Franchises related to this news 💖
POP related to this news 🧙‍♂️
🗯 News, deals, tips, coming soon,... Don't miss anything and join the community of Funko POP! fans