Announcement Coming Soon
Published on 05 March 2022 by Ugo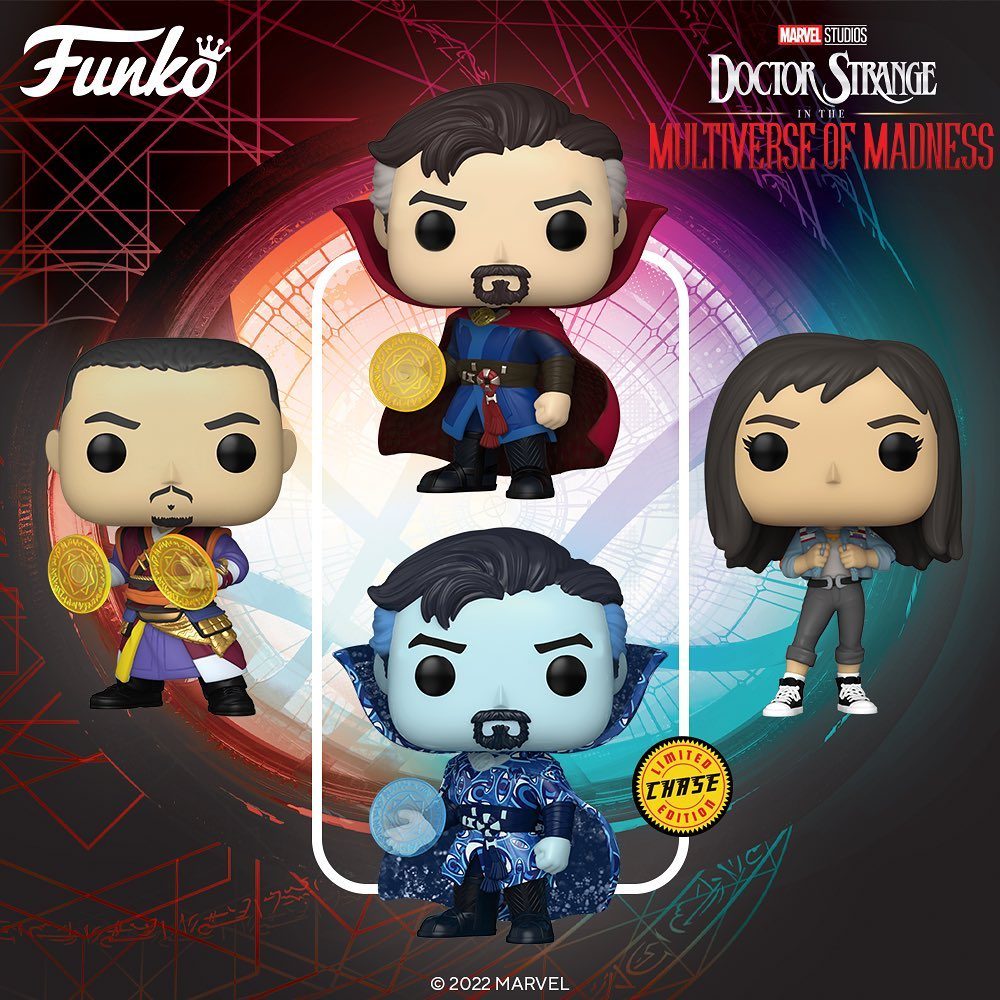 POPs from the movie Doctor Strange in the Multiverse of Madness
It's one of the most anticipated Marvel movies of this year: the second part of Doctor Strange! To keep fans waiting (for a few more months), Funko is now unveiling a wave of POPs from the Doctor Strange in the Multiverse of Madness movie where we can already discover the characters and the incredible universe of Stephen Strange!
Six years after the release of the first Doctor Strange movie that introduced new characters to the MCU and revealed the power of Stephen Strange, the former surgeon who joined the Avengers is back in new adventures. After having manipulated space-time, Doctor Strange has opened multiverses that he will have to close again... Alongside Wanda (now Scarlet Witch), Wong or the young America Chavez, Doctor Strange will have to use all his abilities to bring things back to normal.
The first images of the movie revealed a little bit of the universe of this second part of Doctor Strange, with also many versions of Doctor Strange! This seems to be confirmed by Funko's announcements since the very first POP figures allow us to discover a little bit more about the characters that will be at the center of Doctor Strange in the Multiverse of Madness.
Many figures are of course Doctor Strange, but not only! Here are the details of the ads for the very first POP of Doctor Strange in the Multiverse of Madness :
Doctor Strange (#1000) also available in Chase and Metallic versions!
Wong (#1001)
America Chavez (#1002)
Master Mordo (#1003)
Rintrah in Supersized (#1004)
Supreme Strange (#1005)
Sara (#1006)
The Red Witch aka Scarlet Witch (#1007)
Doctor Strange (#1008)
Defender Strange (#1009)
Christine Palmer (#1010)
Note, with this announcement, Funko has unveiled the 1,000th Marvel POP. It is in the effigy of Doctor Strange. For the occasion, Funko has declined this POP in three versions: the normal one, the chase and a metallic one. No excuse not to try to display proudly the number 1000 on your shelves!
Franchises related to this news 💖
POP related to this news 🧙‍♂️