Announcement Coming Soon
Published on 12 May 2023 by William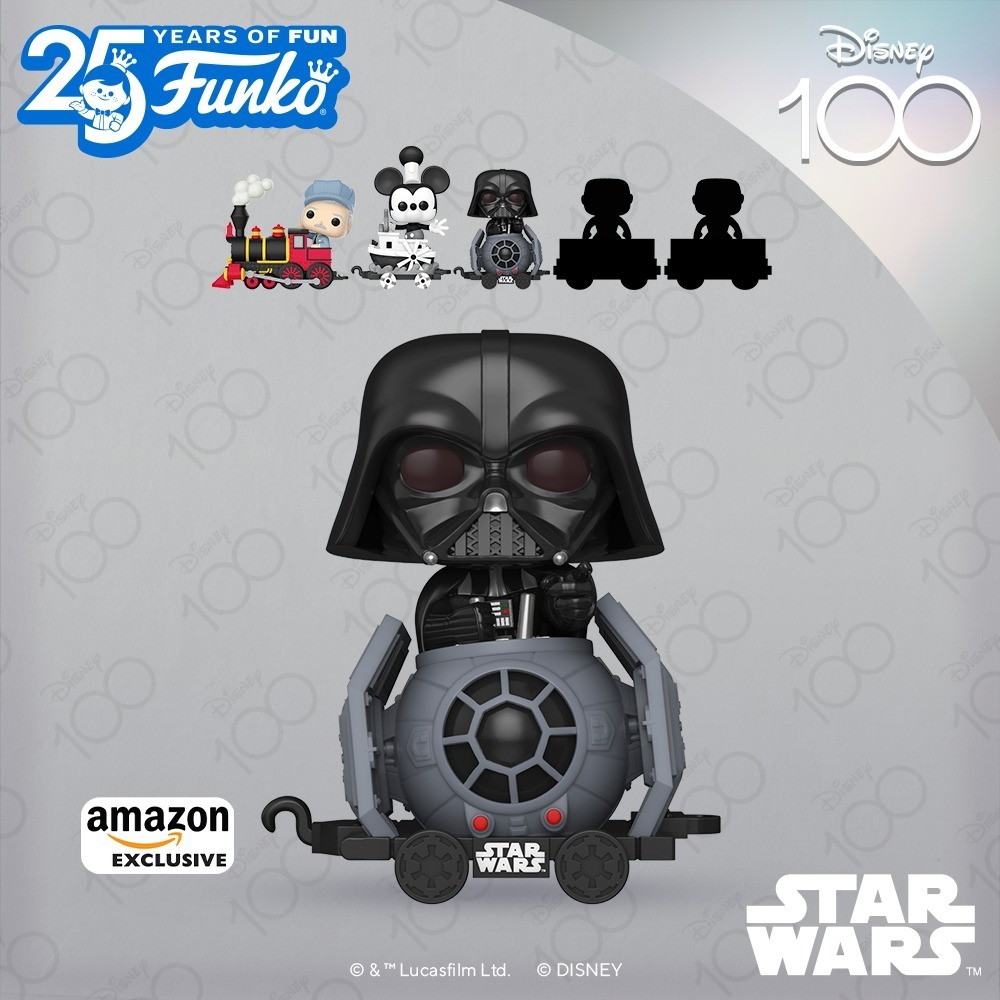 New announcements for the 100 years of Disney
Funko continues the announcements for Disney's 100th anniversary with some great POPs from different parts of the Walt Disney universe. With the unveiling of 8 new figures (very diverse to say the least) in this set, there are now 45 POP figures in total celebrating 100 years of Disney.
For these new POPs, Funko takes us into various Disney universes with very different POPs. First of all, there is a POP Movie Posters of Peter Pan which reproduces the poster of the movie with Peter Pan playing his flute on a tree and Tinkerbell swirling around him.
Change of universe, Funko unveils a POP Trains with a very special car as it is Darth Vader aboard the Tie Fighter. Note: this POP is assembled with the other POP Trains of the set: the locomotive driven by Walt Disney himself and the POP of Mickey in the steamer (black and white). Can't wait to see the next characters (and cars) that will be revealed for this tribute set to the Disney universe...
Third POP, and again a very different one, since it is a POP Albums this time! Funko has indeed reproduced the "Mickey Mouse Disco" album with a POP of Mickey on the dancefloor!
Funko is also taking advantage of this anniversary to unveil the very first POP featuring Hannah Montana, the iconic young girl from the eponymous series that rocked the childhood and adolescence of many fans and launched the incredible career of Miley Cyrus. The young woman is naturally represented with a microphone in her hand and a purple glitter jacket on these POPs.
Then we find a variant of the POP of Oswald the Lucky Rabbit, one of the very first Disney characters, declined in "Silver" this time. This makes three POPs featuring this character in the "Disney 100" set, a nice tribute!
Funko has unveiled a Deluxe POP of Tinkerbell locked in the lantern. A great POP where all the details are perfect, up to Tink's disgruntled face.
Another nice tribute with a new POP of Walt Disney (this is the fifth POP of Mickey's creator for this set). After having represented him drawing or filming, Funko chose to represent Walt quite young and holding in his hands a Mickey Mouse magazine.
Finally, the last announcement for this anniversary, the POP that will certainly impose itself as THE masterpiece of Disney POP collectors since it is the Mega Size POP of Mickey! 18'' high, it represents Mickey in his most emblematic posture and outfit with his yellow shoes and red pants. This "mega POP" is clearly the result of a collection for Disney fans...
Franchises related to this news 💖
POP related to this news 🧙‍♂️
🗯 News, deals, tips, coming soon,... Don't miss anything and join the community of Funko POP! fans