Announcement Coming Soon Event
Published on 19 February 2022 by William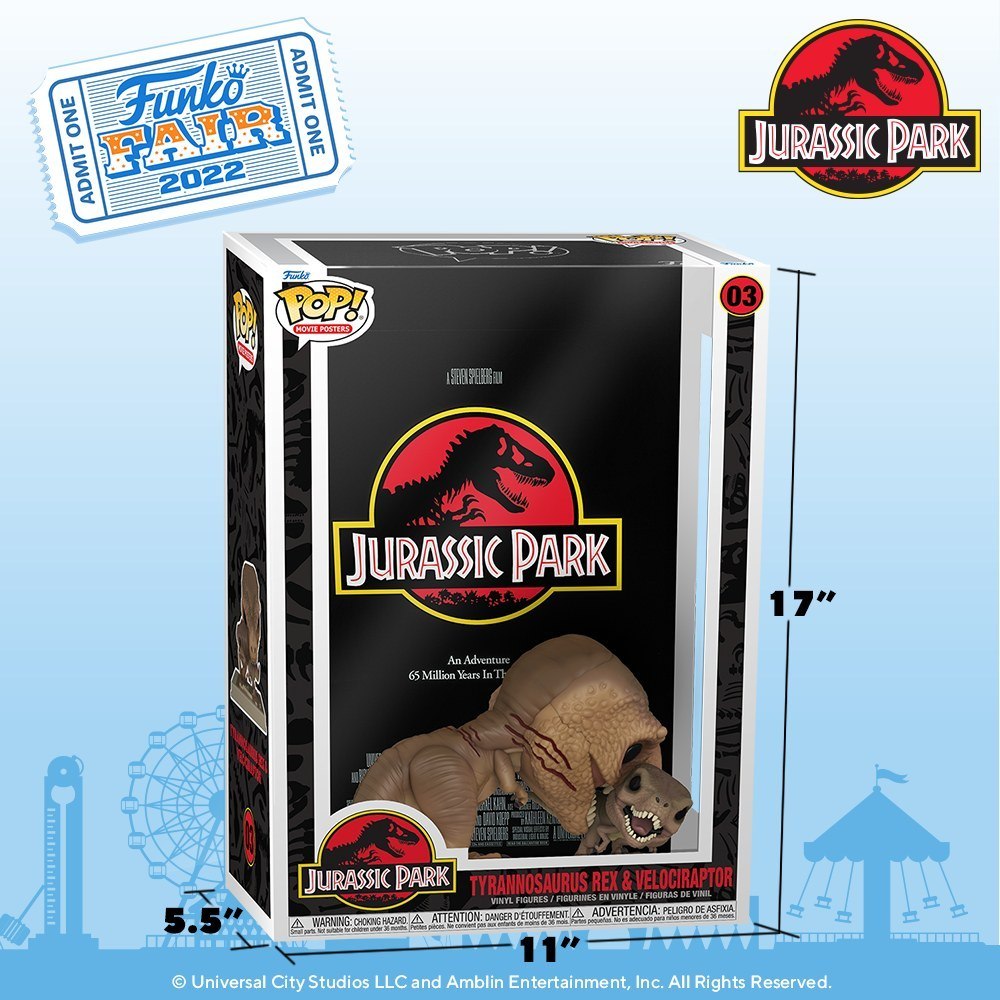 Funko unveils an exceptional POP of the Jurassic Park movie poster
Another great announcement from the Funko Fair 2022 with a Movie Poster POP that features one of the greatest movies of the 90s. Admittedly, I'm not very objective since it's my favorite movie, but is there anyone who doesn't like it. This movie takes us back to the era of dinosaurs and you guessed it, it's Jurassic Park.
Jurassic Park is the first part of a trilogy by Steven Spielberg, based on the novel by Michael Crichton and released in 1993. The film takes us to an island where the wealthy John Hammond is about to realize his biggest project: to open a park with dinosaurs. To do this, he has invested all his fortune to recreate the species that disappeared 65 million years ago from DNA found in fossilized mosquitoes. After a few years, the park is ready to open and Hammond is obliged to organize a private tour to experts to validate that the park is well under control. Among the members of this expedition are the paleontologists Alan Grant and Ellie Sattler, the mathematician (and pessimist) Ian Malcom and finally Hammond's lawyer Donald Gennaro, to whom John Hammond's grandchildren will also be added. If all are fascinated by Hammond's achievement, things will quickly get complicated when the park will get out of control, with as ultimate threat a T-Rex on the loose...
With this POP Movie Posters of Jurassic Park, Funko hits hard. The poster is so mythical and recognizable that the movie could not be among the blockbusters whose posters (and figures) will adorn your shelves.
The Jurassic Park poster is as simple as it is effective: a black background, the park's logo and the words "An Adventure 65 Million Years In the Making.". On the logo side, it displays the name "Jurassic Park" in a typography that is also very recognizable and features the skeleton of a T-Rex in black in a red circle.
Contrary to other POPs that use album covers, movie posters, video games, etc.. Funko made the choice to add two POP figures that do not appear as such on the poster but that remind the scene (almost final) of the movie and that will immediately speak to all fans. It is the POP of the T-Rex devouring a velociraptor. A scene that we do not expect when we see Jurassic Park for the first time!
Note that this is the POP #03 in the category of "Movie Posters" (the first being the POP of the movie Gremlins, the second being still not revealed). For the occasion, Funko opted for a gigantic Supersized POP since the poster is 17'' or 43cm, making this POP one of the biggest POP figures although it is the poster and not the figures that measure this size. Nevertheless, from the first visuals, we can guess that the T-Rex must be about 15 cm and the velociraptor the standard size of the POP.
Franchises related to this news 💖
🗯 News, deals, tips, coming soon,... Don't miss anything and join the community of Funko POP! fans