Announcement Coming Soon Event
Published on 17 September 2022 by William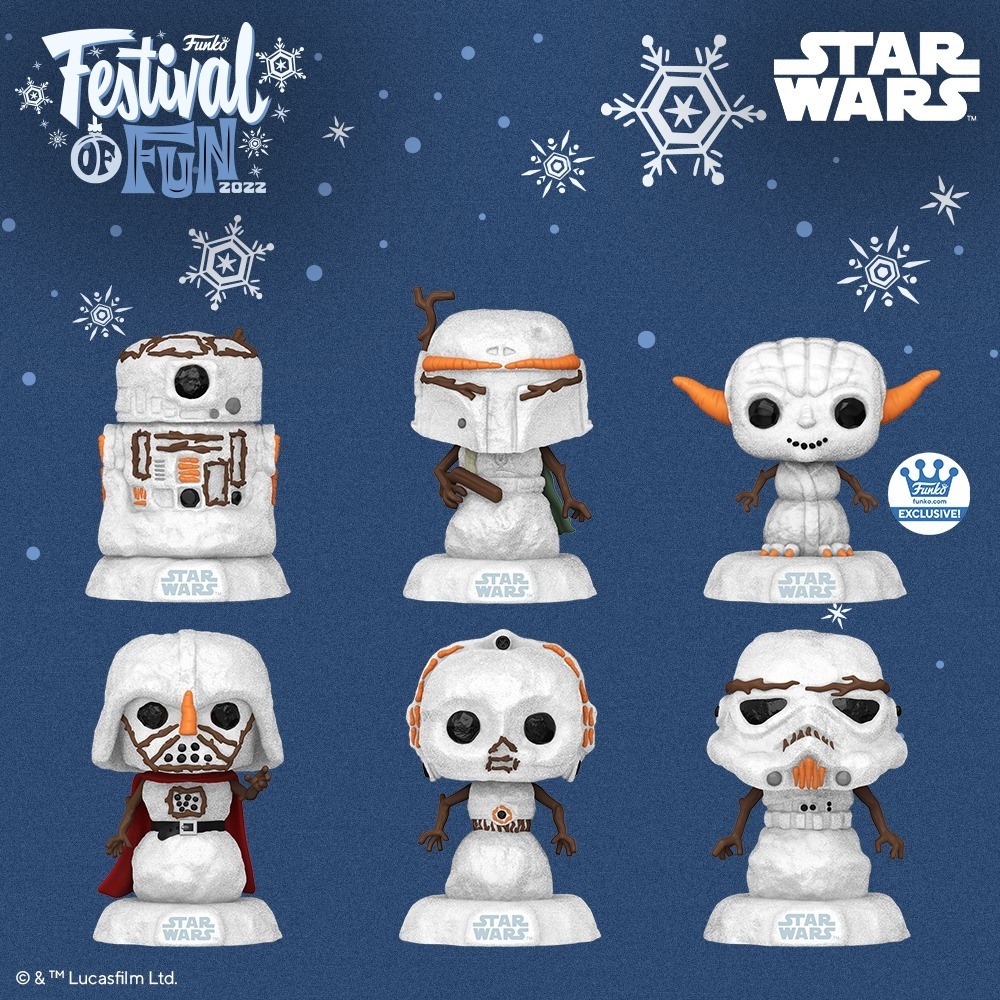 Second day of the Festival of Fun: more new announcements for Christmas 2022
It's already the second day of the "Festival of Fun", the event (which is not a convention) organized by Funko to unveil the specific novelties for the end of the year. It's the occasion to find our favorite characters in Christmas colors.
After a first day marked by a surge of DC figures with the gingerbread superheroes POPs and the presentation of new Coca-Cola POPs, this second day seems to be more dedicated to Marvel and Star Wars even if we could discover POPs from other universes too. Let's have a look at all the announcements of this new day of the Festival of Fun!
We start with a sublime POP album which is just perfect to celebrate Christmas since it is the mythical song Merry Christmas of Mariah Carey. If there were already POPs of the singer dressed in her red jumpsuit (declined in classic and Diamond Glitter version), here is now the POP dedicated to the album itself. If you are a fan of the singer or if you want to add a touch of magic to your shelves, the Mariah Carrey POP Albums for Merry Christmas is just the figurine you need!
The second ad is dedicated to Star Wars with a declination of the main characters in "snowmen". This gives a very successful effect and changes the classic "Santa hats" as last year. In total, there are 6 characters declined in POP Snowman: Darth Vader, Yoda, Boba Fett, C3-PO, R2-D2 and the Stormtrooper. Note: a multipack with 5 figures (all those mentioned except Yoda) is also available.
Then we dive into the Marvel universe with 3 POP figures and a multipack :
The D.I.Y POP (without color) of Hulk Christmas version (#398) ;
The D.I.Y POP of Groot also in Christmas version (#399) ;
A beautiful POP of Star-Lord carrying Groot ;
The Avengers gingerbread 4 POP multipack with Captain America, Iron Man, Hulk and Thor with the Glow in the Dark effect !
Finally, the last announcements are POP Ad Icons, the figurines featuring our favorite brands. We find the famous giraffe Geoffrey (mascot of Toys'R Us) who is dressed in a wool sweater from Macy's stores, but also the toy soldier who represents the FAO Schwarz toy stores.
Franchises related to this news 💖
POP related to this news 🧙‍♂️
🗯 News, deals, tips, coming soon,... Don't miss anything and join the community of Funko POP! fans