POP action figure of Luffy Gear
#921
Luffy or Monkey D. Luffy is the main character of the manga and the animated series One piece. He is a pirate, founder and captain of the famous Straw Hat crew. He is the son of the leader of the revolutionary army, the most wanted man in the world Monkey D. Dragon and the grandson of the famous hero of the Navy, Monkey D. Garp. He is also the adopted brother of Ace and Sabo. His greatest dream as a pirate is to become the Lord of the Pirates by finding the legendary treasure left by Gol D. Roger, the One Piece. For him, finding this treasure means having absolute freedom. Luffy has a worldwide reputation in the pirate community, he has caused a lot of trouble for the Navy and the World Government, which earned him a huge bounty of 1,500,000,000 Berrys and the nickname "Fifth Emperor of the Seas".
Concerning his personality, Luffy is a young man, not very intelligent, with a bit of a crazy side but he is still very bold and determined when it comes to the One Piece. Luffy is a simple and straightforward pirate who doesn't know how to lie, who likes to eat a lot and have fun with his friends. He is also very optimistic and positive like his brother Sabo. As captain of his crew he is ready to do anything to save the lives of his fellow travelers, even if it means putting his own life at risk.
However, when it comes to fighting, he shows great intelligence and malice, Luffy's behavior and instincts are almost similar to those of a wild animal. Indeed, from the point of view of his abilities, Luffy is an extremely powerful pirate, he is a user of demon fruit, the "Gomu Gomu no Mi" a fruit of type Paramecia that Luffy ate when he was still a child by accident. This fruit makes the famous pirate, an elastic man. He is therefore able to stretch all parts of his body to very long distances. He uses his power every day to fight, all his attacks are based on the elasticity of his body. Moreover, added to this power, Luffy also masters the three types of Haki. The Haki of kings, the most powerful and rare of the three, this power allows him to release an energy that can render unconscious the people who are close to him, the Haki of weapons, an offensive power that allows him to armor his fists or his legs for example so that his blows are more effective and strong and finally the Haki of observation, a power that allows him to predict the actions of his opponents.
In this POP figure, Funko shows Luffy the captain of the Straw Hat crew during the Land of Wa arc. He is dressed in a red kimono with blue patterns, wooden flip-flops and not forgetting his famous straw hat hanging behind his neck that was given to him by Emperor Shanks the Red. We also see a sword and his kimono are attached by a belt. Luffy has short black hair that he has tied up just above his head in a bun like a Wano samurai. Of course he still has the scar on the bottom of his left eye with two stitches that he made when he was still a child to prove that he was a real pirate. On this POP, Luffy is in an attack position, fist cocked and ready to attack his enemies in the Land of Wa. A perfect figure for all Luffy fans during this wonderful arc that is Wano.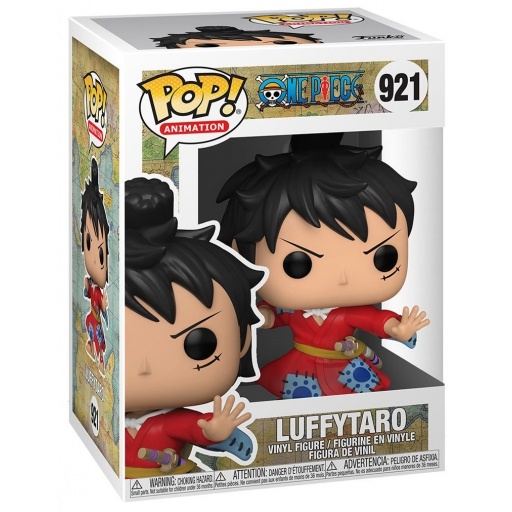 Funko POP Luffy Gear figure in its box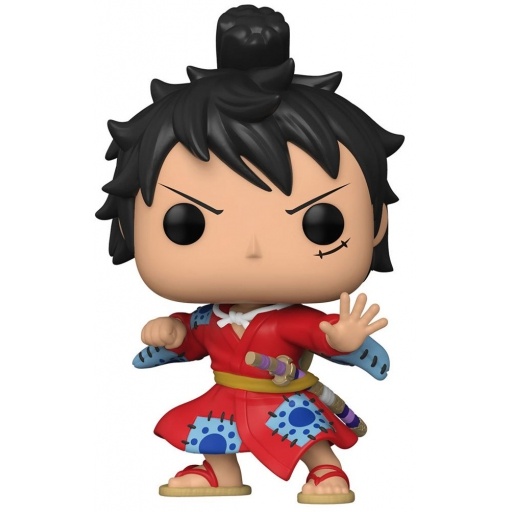 Funko POP Luffy Gear figure unboxed
Luffy Gear POP reviews 💖
| | | |
| --- | --- | --- |
| 5⭐ | | 4 raters |
| 4⭐ | | 0 rater |
| 3⭐ | | 0 rater |
| 2⭐ | | 0 rater |
| 1⭐ | | 0 rater |
What price for Luffy Gear POP figure ?
The action figure of Luffy Gear, from the One Piece franchise is a POP which came out in January 2021.
According to its features, its selling price is estimated at:
12.00$
Please note: this POP is beginning to date, it may become increasingly rare. This could have an impact on its price...
About this action figure ✔
| | |
| --- | --- |
| Action figure | Luffy Gear |
| Item box | 921 |
| UPC Code | 889698544603 |
| Manufacturer | Funko |
| Brand | Funko POP! |
| Release date | 20 January 2021 |
| Size | 10 cm / 3.75'' |
| Franchise | One Piece |
| Character | Monkey D. Luffy |
| Licence | Funimation Productions |
| Category | POP! Animation |
| Status | 👍 Available |
🗯 News, deals, tips, coming soon,... Don't miss anything and join the community of Funko POP! fans