POP action figure of Boruto Uzumaki
#671
Boruto Uzumaki is the eldest son of Naruto Uzumaki and Hinata Hyuga. He is therefore the result of a union of two powerful clans, the second child being Himawari Uzumaki his younger sister.
He is a shinobi of genin rank and is part of the team 7 led by Konohamaru and composed of Mitsuki and Uchiwa Sarada.
Boruto, like his father when he was young, does a lot of foolishness and likes to be noticed for one reason only, he wants to attract the attention of his father Naruto 7th Hokage. Indeed, he blames him for not spending enough time with his family and that his role as village chief takes precedence over his family.
As a ninja, Boruto is considered a prodigy for his rank, indeed in his veins runs the blood of the Uzumaki and Hyuga clans which allows him to have extraordinary abilities. He is an intelligent, perceptive ninja with a large reserve of chakra. Boruto excels in all areas of combat, he has mastered two natures of chakra: Raiton and Futon and has also learned Rasengan a rank A technique and that's why Sasuke took him as a disciple. Kakashi Hatake the 6th Hokage even said that he had the level of a chunin.
Through this POP figurine, Funko represents Boruto the son of Naruto the 7th Hokage from Konoha village. Boruto looks a lot like his father, he has blond hair and on his face we can see that he has 2 moustaches. He wears the Konoha headband, a white t-shirt and over it a black jacket with pink stripes, he is also dressed with black trousers and sandals.
To finish, we notice that on this figurine, Boruto makes the signs of multicloning, his father's favorite technique.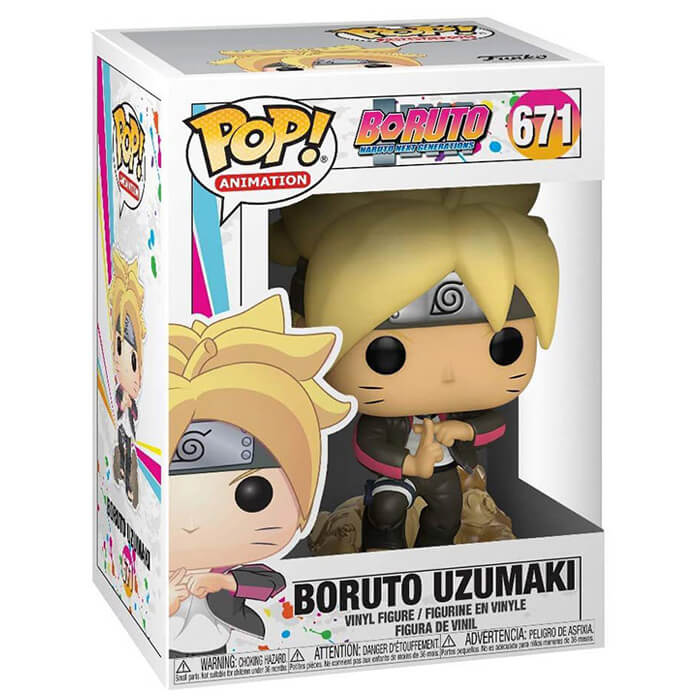 Funko POP Boruto Uzumaki figure in its box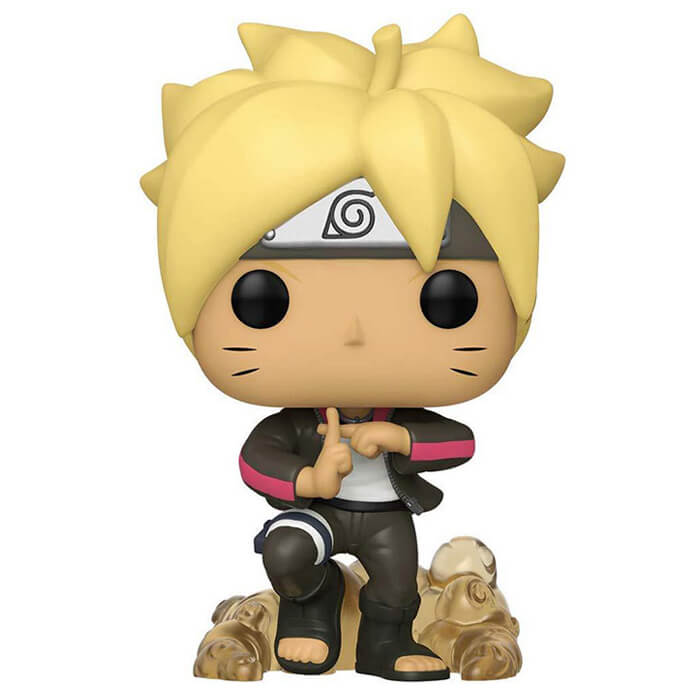 Funko POP Boruto Uzumaki figure unboxed
Boruto Uzumaki POP reviews 💖
| | | |
| --- | --- | --- |
| 5⭐ | | 3 raters |
| 4⭐ | | 1 rater |
| 3⭐ | | 0 rater |
| 2⭐ | | 0 rater |
| 1⭐ | | 0 rater |
What price for Boruto Uzumaki POP figure ?
The action figure of Boruto Uzumaki, from the Boruto: Naruto Next Generations franchise is a POP which came out in January 2020.
According to its features, its selling price is estimated at:
15.00$
About this action figure ✔
🗯 News, deals, tips, coming soon,... Don't miss anything and join the community of Funko POP! fans