POP action figure of Meruem
#1105
Only one being was ever able to put Isaac Netero in trouble and his name was Meruem. Meruem only learned his name after his battle with Netero. Because before he knew his name, Meruem was "The King". A king destined to dominate the planet Earth after having eliminated and transformed the human race in order to assuage the unshared reign of the Kimera Ants.
Before he was born, the Kimera Ants Queen, after devouring human specimens, managed to create a new generation of hybrid soldiers with homo sapiens DNA. With such an asset, the species managed to proliferate discreetly in the autarkic territory of NGL. The queen, fed with human beings, was then able to give birth to an imposing king whom she did not have time to name before dying in childbirth.
Meruem, in fact, had disemboweled his own mother to get out of her huge abdomen and, without pity, went to assuage his reign after having killed his mother at birth. Accompanied by his royal guards who had remained faithful to him, the King moved to the palace of East Goruto where, under the advice of his black advisor Shauapufu, he ordered the harvesting of numerous human beings to carry out a "selection". This selection was to allow human beings endowed with Nen by "baptism" to become super-powerful Kimera Ants soldiers with whom Meruem would establish his domination. This "selection", because of the brutality of the process, involved the lives of millions of individuals and, in the end, would have potentially led to the loss of humanity.
When a group of Hunters attacked the palace, Meruem, who had fallen in love with Komugi, the Gungi player he had sent for, decided to confront Netero face to face after the latter had promised him that he would give him his name if he managed to beat him. It was done. Netero was defeated and, in a final gesture, he detonated a miniature nuclear bomb that narrowly missed eliminating Meruem. Meruem, who had become even more powerful thanks to the rescue of his guards, returned to the palace having matured. Then, realizing that the radiation from the bomb would get the better of him in a few hours, he gave up his plan of conquest and spent his last moments in the company of Komugi to die with her, hand in hand.
The Funko POP figure of Meruem, of course, represents her in all her majesty. Indeed, the Meruem figure, horrific in its appearance, is also supreme in its posture. Humanoid with an atypical skull, possessing only four fingers, one would not know which animal to compare The King to. Also, the Meruem Funko POP is represented with a dominant green color.
In this sense, the Meruem POP figure looks like the character of Cell in Dragon Ball. The graphic inspiration of the character is obviously borrowed from this character who will also play the fate of the world in a fight ending with a fearsome explosion.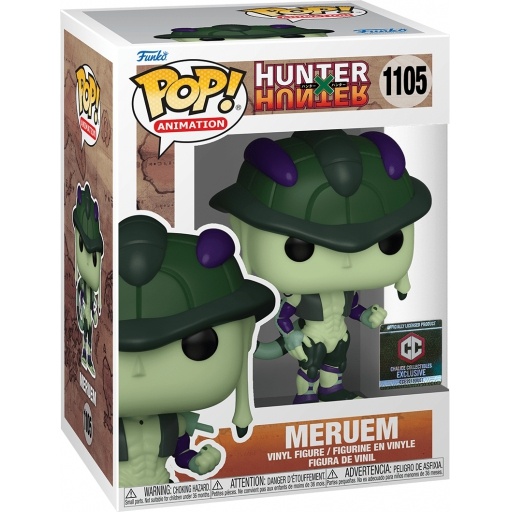 Funko POP Meruem figure in its box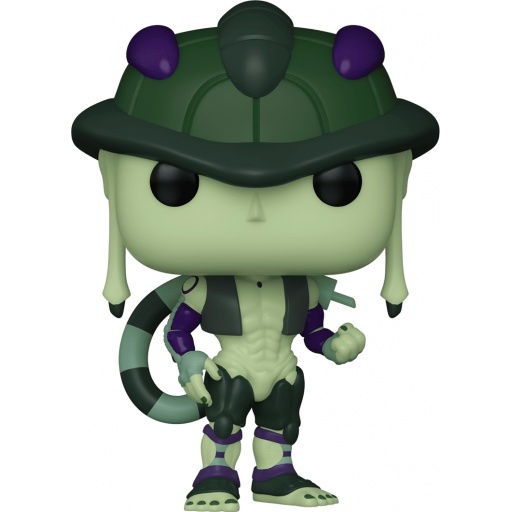 Funko POP Meruem figure unboxed
Meruem POP reviews 💖
| | | |
| --- | --- | --- |
| 5⭐ | | 0 rater |
| 4⭐ | | 0 rater |
| 3⭐ | | 0 rater |
| 2⭐ | | 0 rater |
| 1⭐ | | 0 rater |
What price for Meruem POP figure ?
The action figure of Meruem, from the Hunter x Hunter franchise is a POP which will come out in May 2022.
According to its features, its selling price is estimated at:
17.00$
⏲ This POP will be coming out very soon! Stay tuned if you want to find it in a shop. Please note, you can now book it on online merchants to receive it as soon as it is released.
About this action figure ✔
| | |
| --- | --- |
| Action figure | Meruem |
| Item box | 1105 |
| UPC Code | 889698609449 |
| Manufacturer | Funko |
| Brand | Funko POP! |
| Release date | 18 May 2022 |
| Size | 10 cm / 3.75'' |
| Franchise | Hunter x Hunter |
| Character | Meruem |
| Event | Funkoween 2022 |
| Licence | VIZ Media, LLC |
| Category | POP! Animation |
| Status | 🤞 Coming soon |
| Features | Exclusive |