POP action figure of Trafalgar Law (Chase)
#1016
Trafalgar D. Water Law, also known as Law, is a powerful young man who is both a pirate and the doctor of his own crew, the Heart Crew, which is composed mostly of medical pirates. He is originally from North Blue, more precisely from the White City also called Flevance. Law is one of the Eleven Supernoaves like Luffy and Zoro and has a bounty of 500 million berrys. Traflagar is also a former member of the 7 Great Corsairs, 7 powerful and notorious pirates who have made a deal with the World Government. They are both feared and hated by other pirates as they are often referred to as "The Government Dogs". His ultimate dream as a pirate, although he doesn't often claim it, is to find the legendary One Piece.
Personality-wise, Law is a pirate as evidenced by the way he dresses, a laid-back pirate who doesn't take it personally. Trafalgar is always seen with a mischievous smile that can give the impression of a confident and arrogant pirate, but it's simply that he likes to provoke people he meets. He also has a reputation as a cruel and ruthless pirate among pirates, but he is a young man with great values who does not hesitate when his fellow adventurers are in danger.
As for his abilities as a pirate, he is first of all a doctor and surgeon with a lot of experience, so he has an above-average intelligence and an enormous knowledge in the field of medicine and surgery. Law also knows how to fight, indeed he uses his long sword called Kikoyu which allows him to slice everything he sees at long distance and with precision like a scalpel. Trafalgar often combines his sword with the use of his demon fruit "Ope Ope no Mi", his fruit allows him to create a spherical area in which he can separate and spatially move anything and everything, as long as his targets remain trapped in the area he has predefined. With the help of this fruit Law can also give eternal life to a person in exchange for his own life, which is a more than extraordinary power, this technique is called "Operation Youth".
This POP figure features Trafalgar D. Water Law, a powerful pirate surgeon from the One Piece manga and anime series. Trafalgar is shown here during the Dressrosa Arc, dressed in a long black open coat with "Corazon" written behind it, blue denim pants with black leopard-like markings, and black shoes. Law has a large tattoo on his chest in the shape of a heart in homage to his late friend Don Quixote Rossinante also known as Corazon. On his head hiding his short black hair, he wears a large white Nordic hat with black spots. The specificity of this figurine is that it is a "Chase" type, this POP has much more pronounced colors. In addition, unlike the normal figure Law, in addition to holding his sword in his right hand uses in his left hand his favorite technique, we see him holding the heart of one of his enemies.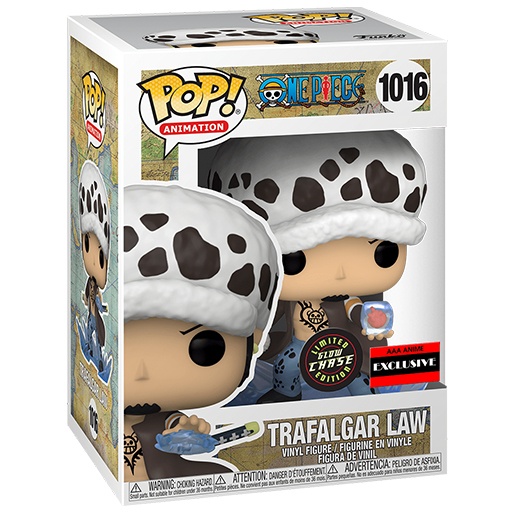 Funko POP Trafalgar Law (Chase) figure in its box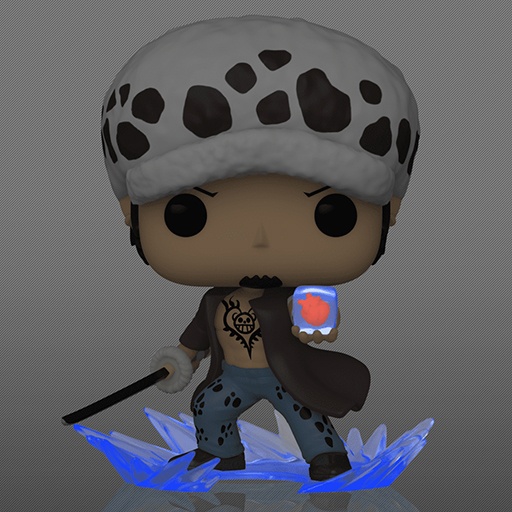 Funko POP Trafalgar Law (Chase) figure unboxed
Trafalgar Law (Chase) POP reviews 💖
| | | |
| --- | --- | --- |
| 5⭐ | | 3 raters |
| 4⭐ | | 0 rater |
| 3⭐ | | 0 rater |
| 2⭐ | | 0 rater |
| 1⭐ | | 0 rater |
What price for Trafalgar Law (Chase) POP figure ?
The action figure of Trafalgar Law (Chase), from the One Piece franchise is a POP which came out in June 2021.
According to its features, its selling price is estimated at:
17.00$
About this action figure ✔
| | |
| --- | --- |
| Action figure | Trafalgar Law (Chase) |
| Item box | 1016 |
| UPC Code | 889698572682 |
| Manufacturer | Funko |
| Brand | Funko POP! |
| Release date | 16 June 2021 |
| Size | 10 cm / 3.75'' |
| Franchise | One Piece |
| Character | Trafalgar D. Water Law |
| Licence | Funimation Productions |
| Category | POP! Animation |
| Status | 👍 Available |
| Features | Glow in the Dark |