POP action figure of Trafalgar Law
#1016
Trafalgar Law, whose full name is Trafalgar D. Water Law, is the captain and a doctor of his own crew, the Heart Crew, a crew composed mainly of pirate doctors. He hails from White City, also known as Flevance, an island in North Blue. Law is one of the Eleven Supernovae, the eleven world-renowned pirates with individual bounties of over 100 million berrys who arrived in the Sabaody Archipelago at the same time. Trafalgar's dream, like Luffy's, is to find the One Piece, as is the dream of almost all pirates. His current bounty is 500 million berrys.
Concerning his personality, Law is a very relaxed pirate, always seen with a smile on his lips which gives him a slightly deceitful aspect. He is a rather defiant young man, who loves freedom and hates being ordered around. Despite his appearance and the reputation of a cruel pirate, he remains a loyal man with values who does not hesitate to make alliances with other pirates when he sees that his crew is in danger.
As for his abilities and skills, Law is a powerful and formidable pirate. He is able to use the Haki of weaponry to fight and defend himself. He has a great intelligence, in fact his nickname is the "Surgeon of Death" because of his great skills in the field of surgery. Law managed to save Luffy and Jinbei who were at death's door. He is also skilled in swordplay. Law is often seen with a big Nodachi sword called Kikoyu, he handles his weapon with extreme precision as if he was using a scalpel, he is able to cut a mountain or even an island with his huge sword. He often combines his sword techniques with his demon fruit "Ope Ope no Mi". This makes him a modifier. His Paramecia fruit allows him to create a spherical area in which he can separate and spatially move anything and everything, as long as his targets are trapped in the area, but this technique quickly drains him.
On this POP figure, Funko shows one of the most important characters of the animated series and the manga One Piece, Trafalgar Law. Law as in the manga is dressed in blue jeans with black marks that look like leopard spots. We can also notice a tattoo on his chest in the shape of a heart in homage to his friend Don Quixote Rossinante. Trafalgar has short black hair hidden by a large white hat with black spots. Law holds in his right hand his big sword named Kikoku and wears a long open black coat with a hood in which the word Corazon is marked on the back. On this figure we see Trafalgar in an attack position ready to attack his enemies with his demon fruit technique "Ope Ope No Mi" that can be seen on his left hand.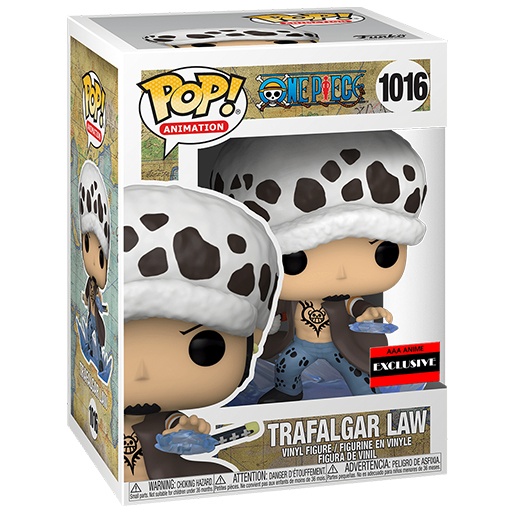 Funko POP Trafalgar Law figure in its box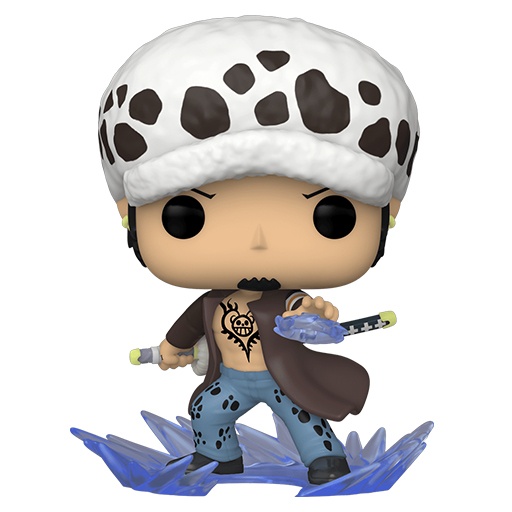 Funko POP Trafalgar Law figure unboxed
Trafalgar Law POP reviews 💖
| | | |
| --- | --- | --- |
| 5⭐ | | 3 raters |
| 4⭐ | | 0 rater |
| 3⭐ | | 0 rater |
| 2⭐ | | 0 rater |
| 1⭐ | | 0 rater |
What price for Trafalgar Law POP figure ?
The action figure of Trafalgar Law, from the One Piece franchise is a POP which came out in June 2021.
According to its features, its selling price is estimated at:
13.00$
About this action figure ✔
| | |
| --- | --- |
| Action figure | Trafalgar Law |
| Item box | 1016 |
| UPC Code | 889698572682 |
| Manufacturer | Funko |
| Brand | Funko POP! |
| Release date | 16 June 2021 |
| Size | 10 cm / 3.75'' |
| Franchise | One Piece |
| Character | Trafalgar D. Water Law |
| Licence | Funimation Productions |
| Category | POP! Animation |
| Status | 👍 Available |
| Features | Exclusive |