POP action figure of Kakashi Perfect Susano'0
#1015
Kakashi Hatake is not a member of the Uchiha clan and yet, he is dependent on their most emblematic technique: the Sharingan. This Dôjutsu (eye jutsu), Kakashi owes it to his youthful comrade, Obito Uchiha. After Obito was crushed during a mission, Obito entrusted his only available eye to Kakashi so that he could use the Sharingan. Apart from Kakashi, only Danzo was able to master the Sharingan via a transplant without having to belong to the Uchiha clan.
Although Kakashi was using up his chakra faster than if he had been a native Uchiha, he was able to make the most of this remarkable jutsu. Not content with already mastering this rare and powerful jutsu, allowing him to copy any jutsu, Kakashi managed to train until he developed his faculties better. He even managed to acquire the Mangekyô Sharingan after having been victim of it during his first confrontation with Itachi. This feat is all the more remarkable as even the best elements of the Uchiha clan had never managed to master this devastating jutsu.
But Kakashi Hatake, as a genius in his art - which will naturally lead him to become the 6th Hokage - will push the feat even further. After having found Obito - the latter having pretended to be Tobi of the Akatsuki - the latter, at the point of death, entrusted his second eye to Kakashi who, then, managed to acquire one of the most powerful powers of the Uchiha clan.
Using two Mangekyô Sharingan, as Sasuke and Itachi had done in their time, Kakashi managed to awaken the power of the full body Susano'o. He used this jutsu in the final battle against Kaguya Otsutsuki, helping to bring the Fourth Great Ninja War to a close with his fighting skills.
The Funko POP figure of Kakashi Perfect Susano'o represents the master of Naruto under a different form than the one we knew until then. Indeed, the Kakashi Perfect Susano'o Funko POP figure implies that the chakra takes over Kakashi's body to give him the appearance of Susano'o.
For this reason, the Kakashi Perfect Susano'o figurine takes on the appearance of one of the gods of Japanese mythology, with a relentless gaze and a long nose. Blue in color, like the entity it is supposed to represent, the Kakashi Perfect Susano'o POP figure also has huge wings. In each hand, the Funko POP figure of Kakashi in Perfect Susano'o mode has a shuriken shaped like the pupils of the Mangekyô Sharingan. With these shuriken, Kakashi can launch a devastating attack that Kaguya had to pay for.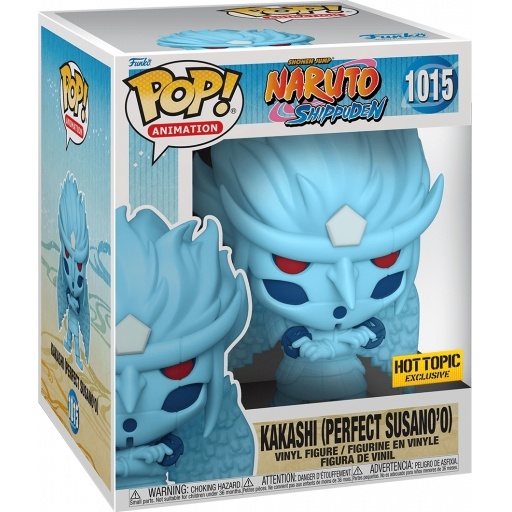 Funko POP Kakashi Perfect Susano'0 figure in its box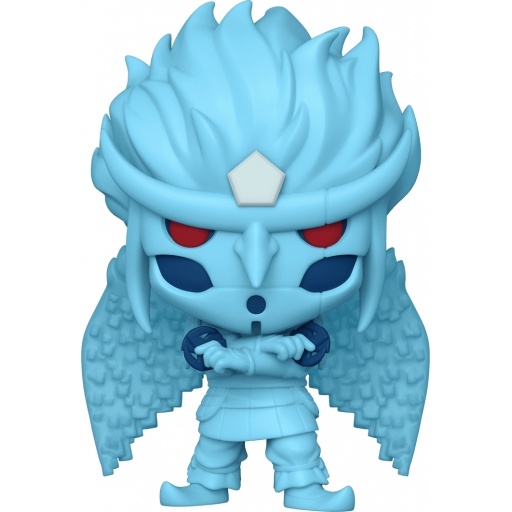 Funko POP Kakashi Perfect Susano'0 figure unboxed
Kakashi Perfect Susano'0 POP reviews 💖
| | | |
| --- | --- | --- |
| 5⭐ | | 2 raters |
| 4⭐ | | 1 rater |
| 3⭐ | | 0 rater |
| 2⭐ | | 0 rater |
| 1⭐ | | 0 rater |
What price for Kakashi Perfect Susano'0 POP figure ?
The action figure of Kakashi Perfect Susano'0, from the Naruto Shippuden franchise is a POP which will come out in February 2022.
According to its features, its selling price is estimated at:
18.00$
⏲ This POP will be coming out very soon! Stay tuned if you want to find it in a shop. Please note, you can now book it on online merchants to receive it as soon as it is released.
About this action figure ✔
| | |
| --- | --- |
| Action figure | Kakashi Perfect Susano'0 |
| Item box | 1015 |
| UPC Code | 889698581462 |
| Manufacturer | Funko |
| Brand | Funko POP! |
| Release date | 10 February 2022 |
| Size | 10 cm / 3.75'' |
| Franchise | Naruto Shippuden |
| Character | Kakashi Hatake |
| Licence | VIZ Media, LLC |
| Category | POP! Animation |
| Status | 🤞 Coming soon |
| Features | Exclusive |